Majors and Minors Home
About the Major
Students earning a Bachelor of Fine Arts in studio art can concentrate on animation, graphic design, painting, ceramics, sculpture, glass, photography, printmaking and art history. To educate, South ingrains skills in creativity, critical thinking, collaboration, perseverance and independence.
Jobs in Studio Art
Storyboard artist
3D animation artist
Product designer
Painter, sculptor or glassblower
Logo and branding designer
Special events producer
Related Programs
Animator Hopes to Create Her Own Cartoon Series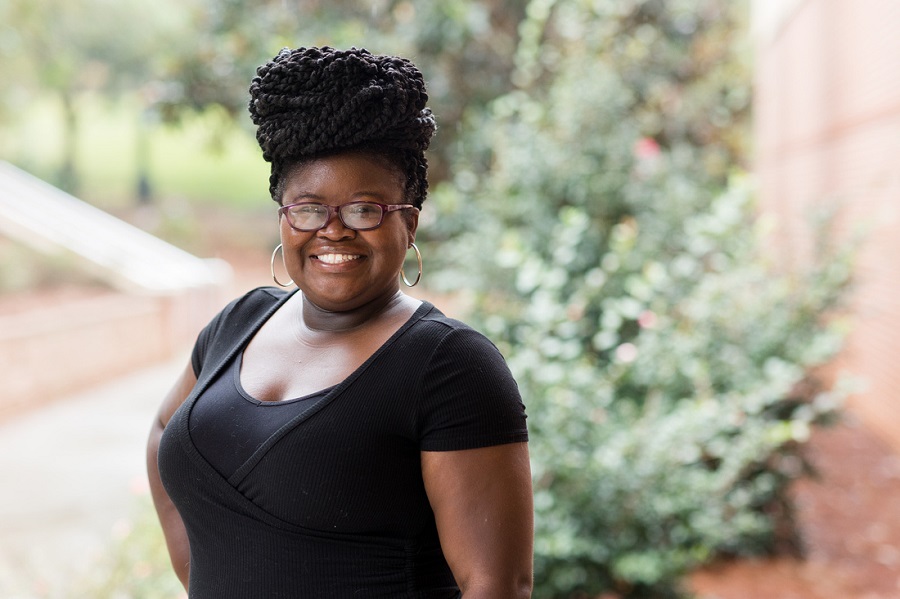 As a cartoon-loving kid, Desireé Perry knew she wanted to create her own stories someday. "I didn't know how it was done," she said. "I just wanted to be part of it. I would always stick around until after the cartoon or movie I was watching was over and pretend I could find my name in the credits."
Now, thanks to her "amazing professors" at the University of South Alabama, she does know how it's done.
Perry majored in studio art with a concentration in animation. "I hope to become either a character design artist or a storyboard artist. My end game is to hopefully become a showrunner for my own cartoon on TV."
She enjoys adventures and history. "I like combining modern time with historical moments."
"I want to introduce characters and settings that aren't typically presented with people of color."
In particular, "I want to introduce characters and settings that aren't typically presented with people of color. Often, you're not going to see African Americans in a fantasy. I want it to be viewed as normal. I don't want people invested in my characters simply because of their skin color. I want them to be emotionally invested because they genuinely want to see the outcome of the adventure."
At South, she's surrounded by people who care as passionately about animation as she does. They support each other. And challenge each other.
"I told my classmates before we broke off for the summer," Perry said, "that this is going to be our goal: By the time we come back for the fall, we want to feel like we're a threat to the professors. The quality of our work is going to increase 10-fold."
Did You Know?
---
South's animation program is the only one in Alabama. The glass blowing concentration is the only program of its kind in the state and one of just a few in the Southeast.
Graphic design majors can go on to excellent jobs in advertising and at major corporations, or flourish as independent graphic design entrepreneurs.
Students and graduates have been juried into national and international film festivals.
Contact:
Susan Fitzsimmons
Chair, Professor
Department of Art and Art History
(251) 460-6337
Curriculum and Degree Requirements