Majors and Minors Home
About the Major
The supply chain begins with acquiring goods and services from vendors and extends through delivering finished products to customers. Students learn the skills necessary to streamline the coordination and collaboration with all of the global partners along the way.
Jobs in Supply Chain and Logistics
Procurement manager
Director of operations
Logistics analyst
Distribution manager
Business operations specialist
Related Programs
Supply Chain Management Newbie Learns Fast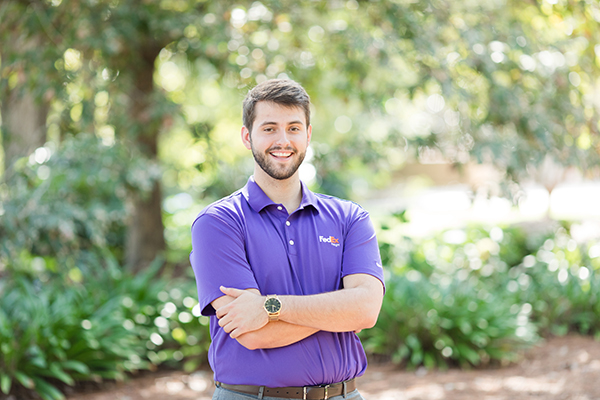 Carson Davidenko decided halfway through his junior year at South to switch his major from biomedical science to supply chain and logistics management. Everyone at the Mitchell College of Business, including faculty and administration, leaped into action. One urgent priority loomed: Davidenko needed to line up an internship ASAP.
Despite a resume full of pre-med courses, he snagged an amazing one, with shipping giant FedEx Freight in Memphis, Tennessee. Senior Vice President of Operations John Smith called personally with the offer.
Davidenko turned him down.
He explained to his father that he didn't want to move to Memphis for the summer. Dad replied, "Son, you need to call that man back right now before I quit my job and take that internship myself."
"Follow their advice. It's good advice. It'll take you far."
Davidenko did. By the time the internship started, Smith had been promoted to president and CEO. "I worked directly with him for four and a half months. I got to do some pretty cool things, and my FedEx career from there kind of took off."
After graduation, FedEx hired him as an operations supervisor, then within a year promoted him to the position of financial analyst of revenue quality. He evaluates proposed projects for money-making potential.
He credits the "overwhelmingly supportive team" at the Mitchell College of Business for making his success possible, even though he switched majors more than halfway through his academic career. The supply chain industry, he said, highly respects the faculty's expertise. "Follow their advice. It's good advice. It'll take you far."
And if you're looking for a career with growth potential, Davidenko has a suggestion: "Supply chains are the key to ecommerce. If you can't properly move, store and supply goods to the end consumer in a timely manner, you're not going to be a successful business."
Did You Know?
---
The Port of Mobile, just 10 miles from South's campus, houses 16 supply chain facilities and represents approximately $25.4 billion in economic value. Those facilities highlight the importance of supply chain management in the economy and provide exceptional connections for South students.
Each day the Postal Service processes and delivers 173.1 million pieces of first-class mail, a service that depends on efficient supply chain management.
Our students gain valuable industry knowledge interning with multinational partners, including Austal USA, Airbus, APM Terminals, Ingalls Shipbuilding and Chevron.
Contact:
Dr. Alvin J. Williams
Chair and Interim Dean
Department of Marketing and Quantitative Methods
(251) 460-1792