Majors and Minors Home
About the Major
At South, digital film and television production students learn to tell stories that make a difference. They learn to produce films and programs that inspire others. They learn a broad understanding of the moving image, along with how to light, shoot and edit film segments.
Jobs in Digital Film and Television Production
Videographer
Scriptwriter
Editor
Producer
Technical director
Related Programs
Film and TV Production Interest Began with "The Thing"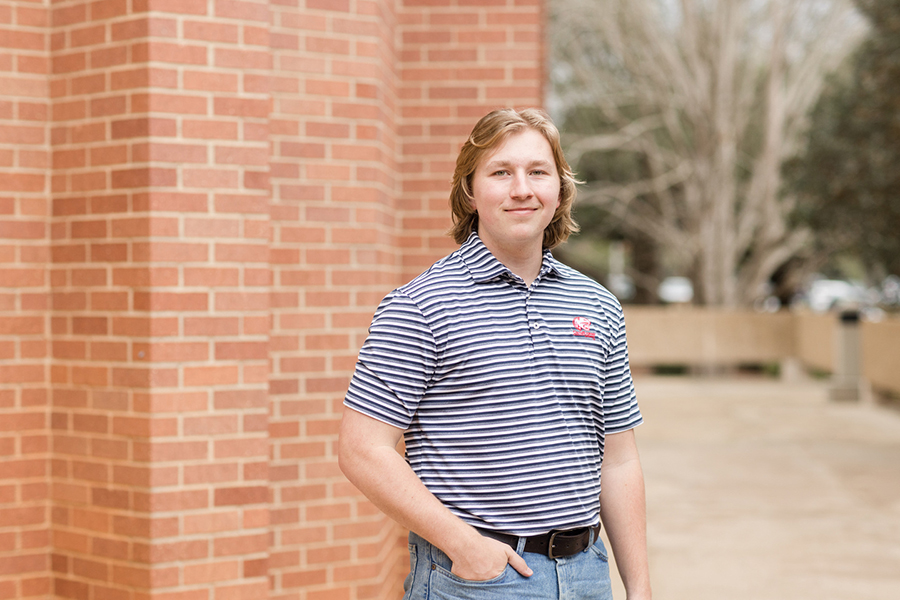 A teenage fascination with horror movies such as "The Thing" led Ryan Labrato to digital film and television production at the University of South Alabama.
"I went through my horror craze when I was about 16," said the Pensacola native. "Practical effects, that was my introduction. I wanted to see how movies were made. I wanted to be there."
At South, Labrato joined a core group of film fans and production students who made short movies for digital film and television classes. The "DFT" crowd. Together, they imagined stories and wrote scripts, then picked up cameras and boom mics to record one another acting in scenes.
"The creative effort, everyone pitching in, that's really fun," he said. "There were multiple times, on set, when script changes had to be made and we needed to improvise."
As a freshman looking for ways to get involved, Labrato began working for the student radio station, 97.1 FM, The Prowl. He started out with a heavy metal talk show and wound up becoming station manager.
"The creative effort, everyone pitching in, that's really fun."
"Radio is the first thing I found on campus, and I held on to it like glue," he said, laughing. "Our adviser always encouraged us to try different things, so we would play local bands and then have them talk about their music. And we did a concert at the Student Center amphitheater."
Labrato took a theater class as an elective, then started performing with Improv USA. His transportation includes his skateboard.
One of his student projects turned into a short film with a long title: "Jabecky and the Mystical, Whimsical Adventure Through the Mirror Dimension: A Cautionary Tale." Living on campus made it easy for him to join classmates in shooting and editing.
"When we were filming something, I could always be there in five minutes," he said. "I was always there, ready to go."
Did You Know?
---
JagMedia, which includes JagTV and WJGR 97.1 The Prowl, offers students hands-on experience in many broadcasting positions.

Students have opportunities to land an internship as part of the ESPN+ crew that broadcasts live home games for South Alabama Athletics.

Digital film and television production graduates from South include Mike Odair, co-executive producer for the hit reality show "Duck Dynasty."

Contact:
Dr. Pavica Sheldon
Chair, Professor
Department of Communication
(251) 380-2800