Majors and Minors Home
About the Major
Geology majors explore Earth's physical, chemical and biological features and evolution over space and time. The program draws from all the basic sciences: chemistry, physics and biology. It's known for providing research opportunities as well as classroom instruction.
Jobs in Geology
Mining and mineral explorer or petroleum explorer
Engineering geologist
Environmental geologist
Hydrologist
Remote sensing and geographic information systems analyst
Related Programs
History Revealed from 'Just a Piece of Rock'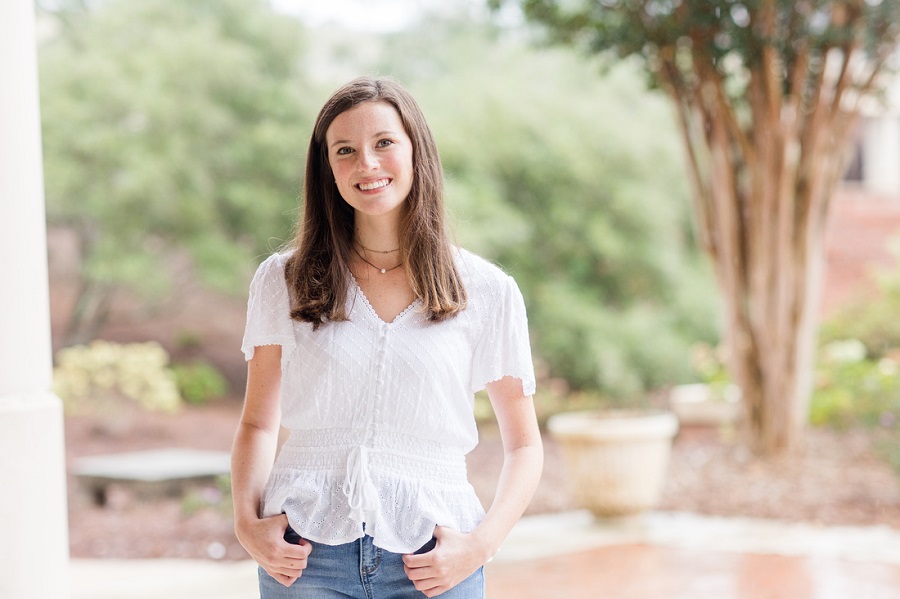 Geology? "People always think that it's just rocks," said Paige Harvey. "I've had people ask me how much a diamond might be worth. I'm sorry, but that's not my area. Geology is more the study of the Earth and the Earth's processes."
Harvey came to South because she's from Mobile, she wanted to stay near the beach, "and they offered me a really good scholarship." She majored in biology until her second geology class. Learning about minerals in Physical Geology (Geology 111) intrigued her. Then Earth History (Geology 112), which covered Earth's creation and its ancient climates, hooked her into changing her major.
"It was so cool to me that we could tell a story from millions of years ago just by looking at something that most people wouldn't think was special," she said. "Just a piece of rock."
Undergraduates get opportunities to help professors with field research and laboratory work. Harvey has collected sediments in the Mobile area. And she helped radiometrically date grains of zircon found in ancient sandstone from Appalachian Mountains formations in northeast Alabama.
"We could tell a story from millions of years ago just by looking at something that most people wouldn't think was special."
Zircon crystals are extremely tough minerals that can retain information from their formation over literally billions of years. "Zircons can endure so much, which is why I find them so intriguing," Harvey said.
Working as a teaching assistant sparked an interest in teaching. So she planned to go on to graduate school and see where her interests took her.
"One of my professors pushed me to go into academia, which ties my interests in both teaching and research together," she said. "I'm not sure about a Ph.D just yet, but hope to continue my studies in graduate school and see where a master's will take me."
Did You Know?
---
Class sizes are small, which allows faculty to provide individualized attention.
Geology majors receive extensive hands-on training through field trips and research opportunities conducted in diverse regions, including in Alabama, Texas and New Mexico.
Geology courses take advantage of South's proximity to the Gulf of Mexico and some of the world's most spectacular modern depositional environments, including Dauphin Island, the Mobile-Tensaw Delta and Mobile Bay.
Contact:
Thu Olsen
Instructor of Geology
Department of Earth Sciences
(251) 460-7570