Majors and Minors Home
About the Major
International business majors learn global cultural differences and business etiquette. The curriculum requires proficiency in a foreign language and strongly encourages studying abroad. It covers management, marketing, economics, finance, accounting and business law.
Jobs in International Business
Import-export specialist
International marketing manager
International trade specialist
Global banking and investment manager
Business consultant
Related Programs
International Business Opens Up the World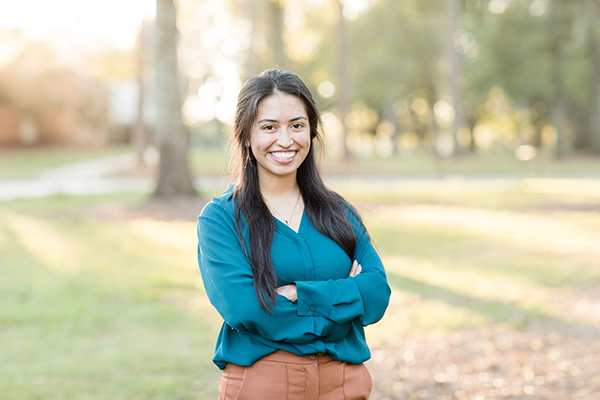 Business has always fascinated Brenda Landa-Silva. "Since I was a little girl, when I would see a big skyscraper, I would say that one day I would have an office at the top."
As that little girl grew up, she developed another passion: travel. When the University of South Alabama began offering a major in international business, she had found her perfect fit.
South's international business program emphasizes and explores the differences in cultural expectations around the world. Normally, students also get practical experience through studying abroad, although the COVID-19 pandemic paused international travel. Landa-Silva did complete an internship with the international shipbuilder Austal USA. "College taught me that connections are important, but at Austal I received firsthand experience in creating professional relationships," she said.
International business majors must show proficiency in a foreign language. Landa-Silva, born in Mexico but a Mobile-area resident since she was 2, speaks English and Spanish. She also studied Mandarin, the dominant Chinese dialect, for a year at South.
" I'm very interested in different cultures and languages."
"I'm very interested in different cultures and languages," she said. "I'm do believe that my parents' taking the opportunity to move to a new country instilled a travel interest in me."
Speaking another person's language at least passably shows professionalism, she said. "When you are conducting business, most of it around the world is in English, or at least it can be. But I know that in some countries, like France, you have to apologize for not knowing the language."
South teaches international business broadly, she said. She hadn't yet focused on a particular field or business, so that was perfect for her. She thought she might try being a consultant after graduation to investigate the possibilities.
"My main goal," Landa-Silva said, "is to work for a multinational company that requires me to go for a few days or weeks or months to their location in another country."
Did You Know?
---
South students can choose among 800 study-abroad programs in over 80 countries worldwide.
Students who study international business learn analytical skills, such as market research and financial analysis, and also learn cultural factors within the global market.
International business majors at South can take courses in French, German, Spanish, Russian, Chinese (Mandarin), Greek, Arabic, Latin, Japanese, Korean, Italian and Portuguese.
Contact:
Dr. Alvin J. Williams
Chair
Department of Marketing and Quantitative Methods
(251) 460-1792