Admissions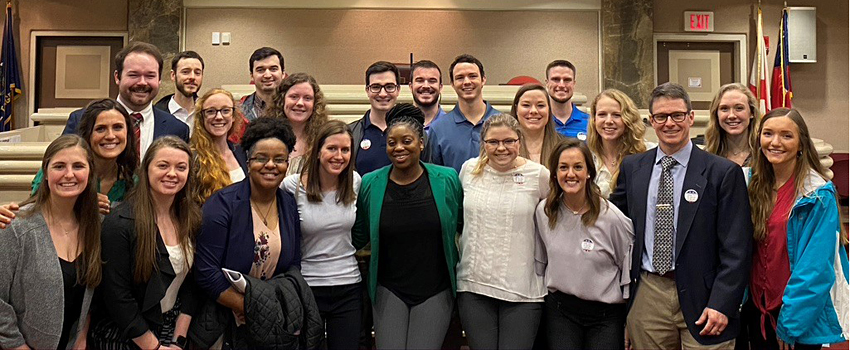 Application Procedures
Due to the COVID-19, please note the following regarding the 2020-2021 admissions cycle.
Grades and Prerequisite Coursework
Students are strongly encouraged to take prerequisite coursework for a letter grade as those will quantify GPA. Alternate grade forms will be accepted for any course for the Spring and Summer 2020 academic sessions. For prerequisite courses, we will only accept course grades of pass, satisfactory, or a letter grade of C or higher.

Observation Hours
Observation or work experience in Physical Therapy (50 hours minimum) under the supervision of a licensed Physical Therapist is now recommended rather than required for the 2020-2021 Admissions Cycle. Students should submit all observation hours completed prior to the COVID-19 pandemic as well as any hours they are able to complete prior to the admissions cycle deadline.

GRE
Graduate Record Examination (GRE) scores will be accepted from both traditional onsite and at-home testing protocols for the 2020-2021 admissions cycle.

Interviews
Interviews will be conducted in December 2020 or January 2021 via Zoom, unless otherwise notified.

Optional COVID-19 PTCAS Essay
This brief essay provides applicants an opportunity to share how their lives have been affected by the 2020 COVID-19 pandemic, both educationally and personally.
Students who can meet the prerequisite requirements by the time the program begins in Fall semester of a given year should apply to the Doctor of Physical Therapy program at USA by the prior December 1st by following these steps:
All applicants must apply to Physical Therapy Centralized Application Service (PTCAS). The PTCAS application must be completed and submitted to PTCAS by December 1, 2020. Please allow up to four weeks for verification. Transcripts: Official transcripts from every college or university attended are considered part of the PTCAS application and must be sent directly to PTCAS. Applications will not be verified until all official transcripts have been received by PTCAS.


Application Fee: $75 non-refundable Application Fee is required. A copy of your receipt must be emailed to ptdept@southalabama.edu no later than the December 1 deadline.


International applicants must have a TOEFL (internet) score ≥100, or IELTS ≥7.5 and must submit application requirements by October 15 of the year prior to admission.


Graduate Record Examination (GRE): GRE scores must be officially reported to PTCAS (use Institution Code 7799) by December 1 deadline. No copies are accepted. USA PT Studies Institution Code 7799 will allow GRE scores to be sent to your designated PTCAS application and USA Admissions.


The Department of Physical Therapy will not process any application that is incomplete (for any items noted above) or that is not submitted by the deadline.


Students accepted to the program must submit completed health and physical exam forms to include required immunizations. Accepted students must also read, sign and submit the Core Performance Standards document outlining fundamental tasks of which applicants should be capable upon entering the PT program. The document is included in the application packet and available upon request.


Acceptance into the DPT program is provisional pending completion of any additional required prerequisite courses with a grade of "C" or better and submission of required medical forms as supplied in the acceptance packet. Failure to make a grade of "C" or better in any required prerequisite course will result in a nullification of acceptance into the professional program.


If a student is not selected for admission in a given year, they may re-apply the following year.


Click here for a Documentation of PT Experience Form (requires Adobe Acrobat Reader)
Applicants Considered for Admission
Applicants must complete a bachelor's degree prior to starting the PT program.
Regular Graduate Applicants
These applicants must hold a bachelor's degree in any field from an accredited college or university and complete all prerequisites for regular graduate admission as listed below with a GPA > 3.00 by the time they would start the PT program.
Admissions rankings for all applicants are determined using the same criteria. Acceptance will be based on the student's academic ability and aptitude for a career as a physical therapist including GPA emphasizing Science prerequisites, GRE score, and interview score.
Minimum Requirements for All Applicants
The applicant must meet all applicable requirements including prerequisites by the December 1st deadline.


Graduate Record Exam (GRE) scores must be officially reported to PTCAS (use Institution Code 7799) by Dec. 1st. GRE must have been taken within the last 5 years. Verbal, Quantitative and Analytical Writing sections may be utilized.


Regular Graduate applicants must have a minimum 3.0 (A=4.0) overall grade point average (GPA).


All applicants must have a minimum grade of "C" in each of the prerequisite courses.


Observation or work experience in Physical Therapy (50 hours minimum) under the supervision of a licensed Physical Therapist. Must be completed and must be verified and submitted electronically to PTCAS.


International applicants must have a TOEFL (internet) score ≥100, or IELTS ≥7.5 and must submit the following to the Department of Physical Therapy by October 15 of the year prior to admission.


Applicants may have a maximum of 2 Science prerequisite courses remaining by the application deadline (December 1st). The remaining prerequisites must be completed in the spring and summer prior to the start of the program.
Prerequisites Required For All Applicants
Prerequisites Required For All Applicants
Courses
Requirement
English Composition
2 courses
Social Science
3 courses - at least two of which must be Psychology
Precalculus Algebra / Trigonometry or Higher Mathematics
Either 1 course of Algebra/Trigonometry, 1 course of higher level mathematics (e.g. Calculus), or 2 courses to include Algebra and Trigonometry.
Statistics
1 course
College Physics -with labs
2 semester or 3 quarter sequence
General Chemistry for science majors -with labs
2 semester or 3 quarter sequence
General or Cell Biology for science majors -with lab*
2 semester or 3 quarter sequence
Human Physiology OR a course
sequence in Anatomy and Physiology
Minimum 6 credits
(Human physiology is the preferred sequence.)

NOTE: For all prerequisite courses, credit older than ten years from the application deadline must be repeated or validated by examination or other appropriate mechanism.

*Botany may not be used to satisfy this prerequisite.
**Electives should be concentrated in a back-up major of the student's choice.



Admissions Timeline
This schedule represents the admissions timeline in a typical year. In any given year, the schedule may have to be adjusted.


Admissions Timeline
Date
Event
July 2-December 1
Application period


January
Admissions committee considers applications


February - March
Initial acceptance letters and alternate letters mailed
Deadline to respond to offer and reserve your place


Late August
Students begin first semester of DPT program
Admissions Data
The table below displays characteristics of the individuals accepted into the DPT Class for each cohort in recent years. Please note that the GPA and GRE data are means for the group that was admitted.


Admissions Data
Class of
2011
Class of
2012
Class of
2013
Class of
2014
Class of
2015**
Class of
2016
Class of
2017
Class of
2018
Mean Cumulative GPA
3.63
3.63
3.69
3.71
3.81
3.80
3.88
3.84
Mean Sci. GPA
3.64
3.59
3.59
3.68
3.64
3.67
3.71
3.60
Mean GRE (V+Q) Total
1076
1071
1104
1051
1123
(302*)
302*
305
307
Gender
F23
M13
F24
M11
F28
M8
F20
M16
F24
M12
F22
M18
F25
M15
F30
M10
Number of Applicants
(complete applications/
pre-requisites met)
190
203
210
249
217
302
181
184
Number Accepted
74
78
81
104
98
97
110
103
Number Enrolled
36
35
36
36
36
40
40
40
*For the Class of 2016, the new GRE scoring system was implemented.
** For the Cumulative GPA, we now consider the cumulative GPA and GPA of the last 64 hours (including Graduate level coursework) and use the higher of the two GPA's.
---
The University of South Alabama publishes certain crime statistics each year as required by the Jeanne Clery Act. This report is required by federal law and contains policy statements and crime statistics for the school. The policy statements address the school's policies, procedures and programs concerning safety and security. Three years' worth of statistics are included for certain types of crimes that were reported to have occurred on campus, in or on off-campus buildings and property owned or controlled by the school and on public property immediately adjacent to the campus. This report is available online at: www.southalabama.edu/departments/police /resources/fireandsafetyreport.pdf. You may also request a paper copy from the University Police office located at 290 Stadium Blvd.