Alabama's Black Belt Blues
---
Posted on October 20, 2020 by Lance Crawford
Lance Crawford
---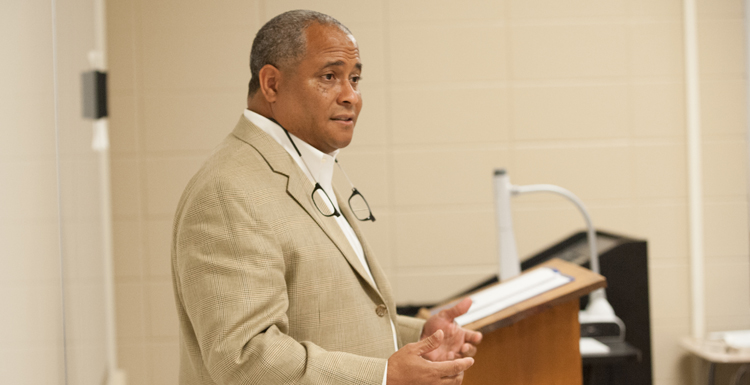 Dr. Kern Jackson, USA's African American Studies chair, is part of a documentary film examining the origins and evolution of blues music in Alabama's Black Belt region.
---
University of South Alabama Assistant Professor Dr. Kern Jackson will be part of "Alabama Black Belt Blues," a one-hour documentary about Alabama's blues music tradition, centered in its fertile Black Belt region. The film is produced by One State Films in partnership with Alabama Public Television.
"This movie will share with us a peek into the past and the present of Alabama Black Belt Blues," said Jackson, director of USA's African American Studies Program.
The film uses slave narratives, archival blues recordings and the recorded music of contemporary African American blues musicians to explore the role this music has played in the region from slavery onward. From cotton fields to church pews to prison spaces to juke joints both rural and urban, the film follows the refrain of the region's blues through the cultural landscapes of Alabama, yesterday and today.
"This is an artistically and emotionally rich description of blues in the Black Belt that illuminated both the African American experience and the history and culture of Alabama," Jackson said.
Directed by Alabama filmmaker Robert Clem, the documentary explores the state's African American blues tradition from the days of slavery through the 1930s and '40s to the present day. It also includes archival film of Black Belt Alabama from the 1920s into the early 2000s and still photographs that include a collection of photos taken in the 1950s by folklorist Fred Ramsey, some of which were included in his book "Been Here and Gone" but have never appeared in a film until now.
Jackson is one of many people—both historians and musicians—appearing in the film discussing the state's blues culture.
"Come and be drawn to the voices and stories of our Alabama neighbors," Jackson said.
"Alabama Black Belt Blues" airs Friday, Oct. 23 at 8:30 p.m. and again Sunday, Oct. 25 at 3 p.m. on Alabama Public Television.
---
---