GEO Organizations
Geography Club
The Geography Club is open to all USA students who have an interest in geography, regardless of their major or their GPA. The Club operates in concert with GTU, sharing event planning and duties of the organizations. Students are encouraged to participate in in events and functions sponsored by the Geography Club and GTU. The faculty advisor for the Geography Club is Dr. Carol Sawyer. To join the Geography Club, please talk with a member or with Dr. Sawyer. Visit our Facebook site for additional information.
Gamma Theta Upsilon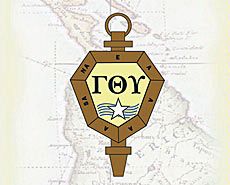 Gamma Theta Upsilon (GTU) is an international honor society in geography. Gamma Theta Upsilon was founded in 1928 and became a national organization in 1931. The Delta Lambda Chapter was founded at the University of South Alabama in 1973 by Dr. Eugene Wilson. Dr. Mimi Fearn re-activated the chapter in 2004 at the behest of students after it became inactive in the 1990s. The current faculty advisor is Dr. Carol Sawyer. Members of GTU have met academic requirements and share a background and interest in geography. GTU chapter activities support geography knowledge and awareness.


Eligibility for GTU Membership:
Students must have completed a minimum of 3 geography courses, have a GPA of at least 3.3 overall and in geography, and shall have completed at least 3 semesters of college course work.


Why should you join GTU?
Gamma Theta Upsilon membership is earned through superior scholarship; it is an honor, and a professional distinction.
No further membership dues are paid to the national organization after the initiation fee.
Many members choose to remain active in GTU after graduation, by joining Omega Omega, the Alumni Chapter of GTU


Benefits of GTU membership:
Most chapters sponsor speakers, campus-wide programs, field trips and social events and participate in service functions.
Members can participate in numerous extra-curricular activities.
Membership provides a network where you can become better acquainted with other geography students and can meet and talk with geography faculty informally.
Members can improve their expertise in the field of geography by learning things not normally dealt with in the classroom.
Members are eligible to apply for Gamma Theta Upsilon scholarships.
Membership in an academic honor society is evidence of your dedication and competency in your career field. Some employers give hiring preference to honor society members.