GEO Scholarships and Awards
Are you a current GEO student looking for scholarships?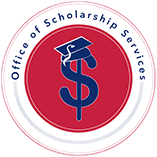 The
Office of Scholarship Services
here at South Alabama are the people who can help you find scholarship and other financial help options for your education here! Their new
JagSPOT
portal allows students to search and find scholarships that may help pay for your education.
Eugene Wilson Geography Scholarship

The Eugene Wilson Geography Scholarship is presented annually to an outstanding senior-level Geography major. This award is named in honor of Dr. Eugene Wilson who taught Geography in the Department of Earth Sciences from 1969 till his retirement in 1996.
2016-2017
Shannon Faye
2015-2016
Casey Yaden
2014-2015
Claude Buerger
2013-2014
Jarrod Cunningham
2012-2013
Logan Anderson, Gabrielle Hudson
2011-2012
Robert Spinetti
2010-2011
Vince Walker
2009-2010
Samantha Warren
2008-2009
Joel Plagge
2007-2008
Sean Huber
2006-2007
Amy Milam
2005-2006
Gabriel Dean
2004-2005
Candice McCullough
2003-2004
Tammy Pounds
2002-2003
Karen Jordan
2001-2002
Andrew Holmer
2000-2001
Sherry Allison
1999-2000
Michael Taylor
1998-1999
Jason Senkbeil
1997-1998
Tuck Yan Ho
1996-1997
Jason Balmut
1995-1996
Jud Englett
Victoria Rivizzigno Geography Scholarship

The Victoria Rivizzigno Geography Scholarship also is awarded to an outstanding senior-level Geography major. Dr. Rivizzigno taught in the Department of Earth Sciences from 1979 till 2008. She then served as Assistant Dean and later Associate Dean of the College of of Arts and Sciences until her retirement in 2014.
2016-2017
Bethany Cobb & Farnaz Bayat
2015-2016
Jeanett Bosarge
2014-2015
Tracy McClure
2013-2014
Cory Dodd
2012-2013
Donald Brinkman, Ryan Brown
2011-2012
Marine Karapetyan
2010-2011
Chris Frederick
2009-2010
Hugh Dowling
2008-2009
Tim Witt
Glenn Sebastian Geography Scholarship

The Glenn Sebastian Geography Scholarship is presented annually to the junior-level Geography major who most clearly exhibits the great collegiality and passion for our discipline that was always associated with Dr. Sebastian. This scholarship honors Dr. Glenn Sebastian who started teaching Geography in 1967. Dr. Sebastian chaired the Department pf Earth Sciences from 1981 till 2007, retired from full-time teaching in 2008, and taught part-time until 2014. The Glenn Sebastian Nature Trail on campus is a tribute to his love of and enthusiasm for the outdoors.
2016-2017
Dante Piccini
2015-2016
Traci Palmer
2014-2015
Brandi Stewart
2013-2014
Thomas Jackson
2012-2013
Skyler Sampson
2011-2012
Gabrielle Hudson, Marlena Slaughter
2010-2011
Reva Stienstraw-Hitchcock
2009-2010
Sherall Cornwell, Vince Walker
2008-2009
Josh Pritchard, Ashley Torton
2007-2008
Nicholas Stricklin
Fearn Undergraduate Summer Research Scholarship

The Fearn Scholarship provides a stipend of $1,000 for an
undergraduate student who wishes to gain hands-on professional experience in a summer research project.
2016-2017
Justice Jackson
Victoria Rivizzigno Geographic Information Sciences Award

The Geographic Information Science Award is given annually to the most outstanding student who has completed the six courses leading to the GIS Certificate or the Geographic Information Science and Technology minor.
2016-2017
Jennifer Boyd
2015-2016
Julius C. Rivera
2014-2015
Matt Boyington
2013-2014
Adham Hawramy
2012-2013
Logan Anderson
2011-2012
Anthony Johnson
2010-2011
Vince Walker
2009-2010
Josh Pritchard
2008-2009
Andrew Keith
2007-2008
Tim Witt
Gamma Theta Upsilon (Geographic Honor Society) Award

The Gamma Theta Upsilon (GTU) Award is presented annually to the Geography major who has made the most significant contribution to either GTU (Geography Honor Society) or to the Geography Club.
2015-2016
Doreen Dilks
2014-2015
Brandi Stewart
2013-2014
Regina Kirkland
2012-2013
Carl Jackson
2011-2012
Zach Warner
2010-2011

Sherall Cornwell
Jan Bolton Geography Scholarship

The Jan Bolton Geography Scholarship was established by the family of Jan Bolton and the Board of Directors of the USA Foundation. It is awarded to a junior-level Geography major who has demonstrated outstanding academic performance.
2016-2017
Justice Jackson
2015-2016
James "Dusty" Norris
Senior Achievement Award

The Department of Earth Sciences presents an award to graduating seniors who have a GPA of at least 3.0 and a Geography GPA of at least 3.0.
2016-2017
Farnaz Bayat, Elizabeth Cruz, Shannon Faye, Jacob Quesenberry, Charles Barrow, Mechell Daniel, Heather Glass, Holly Simmons, Jennifer Boyd, Kassady Douglas, Traci Palmer, Michael Stafford
2015-2016
Jeanette Bosarge, Jessica Higginbotham, Thomas Jackson, Julius C. Rivera, Brandi Stewart, Clayton Tatum, Casey Yaden
Early Achievement Award

The Department of Earth Sciences presents an award to the two most outstanding students in each of the four introductory Geography classes.
2016 - 2017
GEO101 - Atmospheric Processes
Abby Krzywiecki, Patricia Martins
GEO102 - Landscape Processes
Clifton Deakle, Kelley Hartman
GEO114 - Human Geography
Tiina Trusti, Halie Grimes
GEO115 - World Regional Geography
Ian Norman, Jasem Alawadhi
2015-2016
GEO101 - Atmospheric Processes
Brandon Nolan, Collier Smith
GEO102 - Landscape Processes
Glen Nichols, Solina Ngam
GEO114 - Human Geography
Justice Jackson, Tiffany Hester
GEO115 - World Regional Geography
Ashton Quattlebaum, Noelle Knott
Goode's World Atlas Award

From 1996-2015 the Geography program presented a copy of the Goode's World Atlas to graduating seniors who had an overall grade point average of at least 2.5 and a Geography grade point average of at least 3.0. This award has been replaced by the Senior Achievement Award.

2014-2015
Taylor Campbell, Tyler Crum, Christy Kantola, Chris Taylor, Marvin Twilley, Claude Buerger, Logan Hants, Logan Wheeler, Michael David, Tracy McClure
2013-2014
Ashley Bourassa, Jarrod Cunningham, Donovan Cordell, Cory Dodd, Hunter Griffin, Carl Jackson, Matt Johnson, Jason Richards, Skyler Sampson, Kaci Stokely, Harold Woulard
2012-2013
Logan Anderson, Donald Brinkman, Ryan Brown, Marcus Doucet, Marlena Slaughter Giattina, Gabrielle Hudson, Regina Kirkland, Anthony McGrady, Madelyn Robinson, Eric Sands
Zach Warner, Kal-El Waters
2011-2012
Jonathon Bradshaw, J.C. Breckenridge, Mary Green, Sarah Hill, Anthony Johnson, Marine Karapetyan, Tela O'Rourke, Robert Spinetti, Reva Stienstraw-Hitchcock, Ashley York
2010-2011
Scotty Brown, Alyson Cederholm, Sherall Cornwell, Chris Frederick, Ryan Granier, Michelle Holloway, Chika Katsuyama, Vince Walker, Kraig Walsh, Hunter Winstanley, Raymond White
2009-2010
Forrest Coffman, Hugh Dowling, Andrew Keith, Stephen Madden, Yollette Mathews, James Moone, Ernest Perkins, Josh Pritchard, Paul Roberst, Yukie Sakayori, Ashley Turton, Samantha Warren
2008-2009
Brian Averitt, Cheryl Baugh, Peter Campbell, Stephen Ciochran, Mark Mitchell, Chris Murphy, Tony Nguyen, Joel Plagge, Nick Stricklin, Doni Thompson, Tim Witt
2007-2008
Amanda Botts, Daphne Foster, Sean Huber, Lauren Monteith, Jennifer Reynolds. Timothy Risner, Royce Sutton, Phillip Whatley
2006-2007
Justin Beebe, Sean Brumley, John Chadwick, Marie Cross, Bonnie Davis, Tony Felts, Michael Hyland, Travis Jones, Maggie Kendrick, Lauren McConnell, Amy Milam, Cory Rhodes, Chad Whaley
2005-2006
Gabriel Dean, Shawn Gable, Robert Hartland, Erica Hay, Philip Herron, Kina Horne, Jason Kudulis, Trey Meynig, Andrea Peterson, Blake Pool, Dusty Reed, Kristie Thomas
2004-2005
Preston Ellison, David Goodman, Gene Longenecker, Candice McCullough, Michael Olmstead, Jennifer Robinson
2003-2004
Trey Cross, Andy Hilburn, Jason Kemple, Kara Lankford, Tammy Pounds, Jessica Simmons, Cherie Stobert, Sam Wilson, Beth White
2002-2003
Shalon Bush, Michael Daugherty, Amy Durden, Russell Hunt, Karen Jordan, Laurie Orso, Amanda Vernon, Suzanne Wachal
2001-2002
Keith Abston, David Ford
2000-2001
Sherry Allison, Arlene Baker, Heather Boone, Katey Gormley, Alyssa Hoffman, Alan Jolly, Andrea Kohutek, Colby Lancelin, Kim Marchant, Tammer Ramini, Joshua Shaw
1999-2000
Sarah Johnston, John Koors, Michael Taylor
1998-1999
Caryn Lee, Jason Senkbeil, Jason Snyder, Marti Watson
1997-1998
Tuck Yan Ho, Michael Noonan
1996-1997
Jason Balmut, Tim Pozzo, Ava Ritchie
1995-1996
Tyrus Cohan, Jud Englett, Matt Sanders