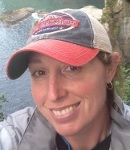 Dr. Frances C. Mujica
Assistant Professor of Geography Department of Earth Sciences

---
Research Interests
Health Geography
Disease Inequality
Cultural/Political Ecology of Tourism
Latin America
---
Bio
Dr. Frances C. Mujica is a Health Geographer and an Assistant Professor of Geography in the Department of Earth Sciences at the University of South Alabama. She received her B.A. from the University of Memphis, M.A. and Ph.D from Louisiana State University. Dr. Mujica's research interests lie in the investigation of risk environments as related to health. In particular: the documentation of vector-borne diseases landscapes in the Southeast and in health disparities in marginalized communities, with a particular emphasis on applied medical geography of risk causation. Secondarily, she is interested in post-disaster community recovery as it also relates to health disparities.
As a Ph.D. student, she explored the social inequalities and risks of Chagas disease in six communities in Los Tuxtlas, Veracruz, Mexico. This project explored the domestic cycle of Chagas disease and the cultural factors that perpetuate its transmission in these communities. The cross-discipline exposure and the techniques training she acquired while working on this research has undoubtedly influenced her current research agenda as well as provided her with expertise that she employs in the classroom.
Beyond her current research agenda several other projects helped develop her affinity for fieldwork and qualitative collection techniques that she draws on regularly in her classes. These projects include research in, economic geography, tourism development and sustainability on the Olympic Peninsula, WA, hazards geography, and urban gentrification and landscape changes in Latin American and Mobile, AL.
Dr. Mujica enjoys working with undergraduate students in the field or in the lab. If you are interested in working on any of these projects, please send her an email or stop by her office.
---
Courses
ES 301 Writing for the Sciences
GEO 365 Urban Geography
GEO 370 The Geography of International Tourism
GEO 312 World Economic Geography
GEO 417 Health and Place (Medical/Health Geography)
GEO 114 Introduction to Human Geography
GEO 115 World Regional Geography