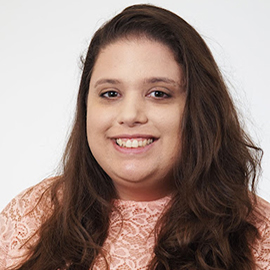 Jaclyn Bunch
Associate Professor Department of Political Science and Criminal Justice

---
Education
B.A. Pace University,
M.S Political Science, Florida State
University,
Ph.D. Political Science, Florida State University
---
Biography
Dr. Jaclyn Bunch is Associate Professor in the Department of Political Science and Criminal Justice at South. Dr. Bunch earned her B.A. in 2009 from Pace University and her Ph.D. in May of 2014 from Florida State University, where she served as the LeRoy Collins Fellow. In this role, Dr. Bunch was tasked with a host of projects including policy analysis, compilation of extensive data collection, coding, modeling, and assessment of state issues ranging from finance to institutional conflict and cooperation. Her research primarily falls within the fields of American Politics and Public Policy, with particular interests in state and local relations, federalism, hierarchical dilemmas, political media, motivation and reasoning. Dr. Bunch's work is published in noted field journals including PS: Political Science and Politics, Public Policy and Administration, State and Local Government Review, and Justice Quarterly. On the undergraduate level, she has taught courses in American national government, media and politics, as well as state and local politics and policies. Dr. Bunch also teaches extensively in the Masters in Public Administration Program at South, and her graduate courses include intergovernmental relations, public budgeting, state and local politics, organization and behavior, media and public relations, as well as health policy concentration coursework. Within the past three years Dr. Bunch has been honored with numerous awards, including the Andy and Carol Denny National Alumni Association Excellence in Teaching award, University of South Alabama College of Arts and Sciences Teaching Excellence Award, and the distinguishment as "Top Prof" through the Mortar Board.
---
Research Interests

Federalism

State and Local Relations
Fiscal Federalism
Hierarchical Dilemmas
Diffusion and Innovation
Public Policy and Administration

Redistributive Public Policy
State and Local Implementation
Social Construction

Political Psychology

Motivation and Reasoning/ Opinion Formation
Cognitive Heuristics
Framing and Media

Public Opinion

U.S Government

Health Policy and Administration
---
Recent Publications

Bunch, Jaclyn, Scott Liebertz, and Kerri Milita. 2017. "Outcomes and Outputs: Long-term effects of Temporary Assistance for Needy Families on caseload enrollment and poverty." Public Policy and Administration. DOI: 10.1177/0952076716687353

Liebertz, Scott, and Jaclyn Bunch. 2017. "Examining the Externalities of Welfare Reform: TANF and Crime" Justice Quarterly. DOI: 10.1080/07418825.2017.1323113

Milita, Kerri, and Jaclyn Bunch. 2017. "Helicopter Parenting and the Policy Attitudes of College Students ." PS: Political Science and Politics.

Bunch, Jaclyn. Forthcoming. "Give and Take: The Case of Home Rule Infringements in the United States", PS: Political Science and Politics.
---
Courses
Graduate
Organization and Behavior PSC 500
Intergovernmental Relations PSC 510
Government Personnel Management PSC 540
Managing the Public Budget PSC 550
Health Policy PSC 585
Social Construction of Public Policy PSC 590
State and Local Politics PSC 590
Media, Politics, and Public Relations PSC 590
Undergraduate
Introduction to American Government PSC 130
State and Local Government PSC 232
Public Policy PSC 301
Public Administration PSC 401
Media and Politics PSC 490
Capstone Seminar PSC 492