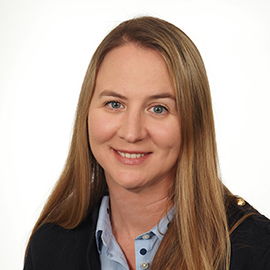 Erica Lawton
Part-Time Faculty Department of Political Science and Criminal Justice

---
Education
B.S. 2002 Metropolitan University of Denver
Master's 2012 Oklahoma State University
---
Biography
Erica Lawton is currently the Forensic Scientist Supervisor for the Firearm and Toolmark Section for the Birmingham and Mobile Regional Laboratories for the Alabama Department of Forensic Sciences. She started her career as an intern for the Colorado Bureau of Investigation in 2002. After her internship, she was hired by the Miami-Dade Police Department in 2004, where she spent three years as a Firearm and Toolmark trainee and bench level examiner. In 2007, Erica was hired by the Broward Sheriff's Office Crime Laboratory where she worked for ten years, becoming the Technical Leader and Supervisor in 2011. During her tenure in South Florida, she was very active in the Florida Division of the IAI where she held several offices, including president in 2010. She has also worked as an independent examiner for the Royal Caiman Islands, the Turks and Caicos, and civil cases within the United States. Erica is one of the adjunct co-facilitators and original developers for a pattern science class that has been taught at Nova Southeastern University for over ten years. In 2017, she accepted a position with the Alabama Department of Forensic Sciences.
Ms. Lawton holds a Bachelor of Science degree in Chemistry from the Metropolitan State University of Denver and a Master of Science in Forensic Science from Oklahoma State University.
Since becoming a member of AFTE in 2005, Erica has received her certification in both Firearm and Toolmark Examination. She received the President's Award in 2016 and the Walter J. Howe Award in 2017 along with her distinguished membership. She has served on the Educational Standard Exploration Adhoc Committee, the Editorial Review Committee, the Nomination Committee, the 2016 Host Committee, and serves as chair of the Electronic Resource Committee.
In addition, Ms. Lawton currently serves on the Firearms and Toolmarks Subcommittee of the Organization of Scientific Area Committees (OSAC) since 2017 and was appointed Vice Chair in 2019.
---
Courses
CJ 223: Intro to Forensic Science