Testing Lab Procedures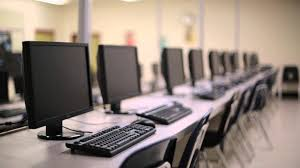 The Psychology Testing Lab is open
Monday 1:30 pm - 5:30 pm
Tuesday 3:30 pm - 5:30 pm
Wednesday - none
Thursday 3:30 pm to 5:30 pm
Friday 3:30 pm to 5:30 pm
The lab is located in UCOM 1220.
Please follow the guidelines below when you want students to take tests in the lab. The lab is available for any faculty member (e.g., full-time, adjunct, graduate assistant) to schedule tests (based on availability).
Faculty
Please contact Bonny Lassiter using the form below if you need a test administered.
https://forms.gle/bRcQuD8QsjgjDQBfA
Students
For an exam you can take on your own time schedule, use this link to sign up for an exam time slot:
https://calendar.google.com/calendar/selfsched?sstoken=UU9PcEFyWjJIQjFUfGRlZmF1bHR8YmQyMzlmOTg3OTg0MTBkZjRhOTBjNGU3NDc2YWVhYjA
When you sign up on Google Calendar please *enter the NAME of the Instructor and the Course Name* (PSY 120, etc...). Add these into the DESCRIPTION box on the calendar appointment screen.
Arrive at the testing lab at your assigned time.
Address: 1220 UCOM, University of South Alabama, 75 South University Blvd., Mobile, AL 36688-0002
(UCOM stands for University Commons. Room number 1220 and is located in Building 1000, the Psychology Building)
Check in with the testing lab instructor. Be ready to show some form of picture id (Student ID or Driver's License are optimal).
Leave your phone/electronics with the testing lab instructor while you take your test.
When you are finished, give your test and answer sheet to the testing lab instructor and retrieve your electronics.
Tutoring is available during lab hours (above) whenever a test is not being administered. Please contact Bonny directly if you need tutoring for a Psychology course.