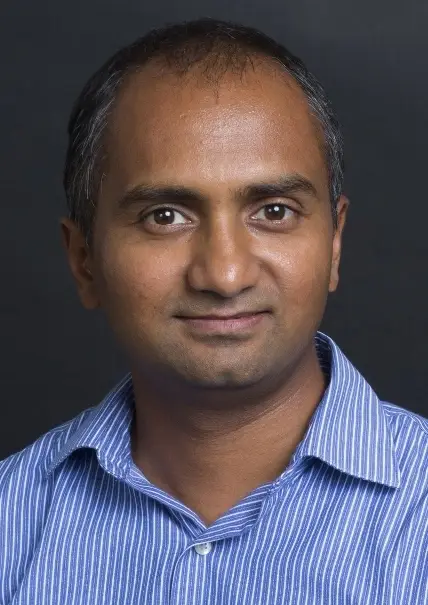 Ph: (251) 460-6168
Dr. Dhananjay T. Tambe
Assistant Professor Mechanical Engineering / Biomedical Engineering

---
Research Interests
An overarching goal of my research lab is to apply the principles of mechanics and material science to identify the physical rules that govern the function of cells, tissues, and organs. While seeking to identify the fundamental rules of life, we invest significant efforts in using automation technologies to build innovative products for life sciences researchers and healthcare providers.
As part of the Center for Lung Biology team, we primarily focus on the mechanobiology of lungs. Several of our ongoing projects involve identifying the physical laws that govern migration, deformation, division, detachment and death of lung endothelial cells. These projects are designed to (a) improve our understanding of the basic science of the endothelial cells, (b) identify novel mechanical modulators of lung pathologies including pulmonary hypertension, sepsis, and acute lung injury.
---
Education
Postdoctoral Training, Department of Environmental Health, Harvard T.H. Chan School of Public Health
Ph.D. Mechanics of Solids and Structures, Brown University
M.S. Applied Mathematics, Brown University
M.Tech. Mechanical Engineering, Indian Institute of Technology, Madras
B.S. Mechanical Engineering, University of Pune
---
Publications
Mechanical Signaling in a Pulmonary Microvascular Endothelial Cell Monolayer G Patel, N Xu, A Nguyen, DF Alvarez, JJ Fredberg, T Stevens, DT Tambe Biochemical and Biophysical Research Communications, 519 (2), 337-343.
Collective Cell Guidance by Cooperative Intercellular Forces
DT Tambe, CC Hardin, TE Angelini, K Rajendran, CY Park, ...
Nature materials 10 (6), 469 547 2011
Monolayer Stress Microscopy: Limitations, Artifacts, and Accuracy of Recovered Intercellular Stresses
DT Tambe, U Croutelle, X Trepat, CY Park, JH Kim, E Millet, JP Butler, ...
Public Library of Sciences - One 8 (2), e55172 86 2013
Long-range Stress Transmission Guides Endothelial Gap Formation
CC Hardin, J Chattoraj, G Manomohan, J Colombo, T Nguyen, D Tambe, ...
Biochemical and biophysical research communications 495 (1), 749-754 2018
High-throughput Screening for Modulators of Cellular Contractile Force
CY Park, EH Zhou, D Tambe, B Chen, T Lavoie, M Dowell, A Simeonov, ...
Integrative Biology 7 (10), 1318-1324 33 2015
Patents
Monolayer Stress Microscopy
DT Tambe, JJ Fredberg, J Butler, X Trepat
US Patent 9,714,932 2017
Multi-Well Plate System to Assess Cellular Mechanobiology
DT Tambe, N Patel
Patent filed
For additional Publications:
---
Courses
EG 315 - Mechanics of Materials

ME 314- Machine Component Design
ME 490 - Cell Mechanics
ME 583 - Applied Elasticity
Directed Independent Study on the following topics:
Bioengineering
Biomechanics
Automation Technology
IDL 635 - Advanced Signal Transduction (module on Mechanical Signaling in the Cells)
Faculty Advisor: Society of Women Engineers, Jaguar Cricket Club