Clinical Training
USA Psychological Clinic
The clinic moved into a newly renovated space in the University Commons building in Fall of 2010.The clinic serves as a training setting for masters students in applied psychology as well as CCP students.
The clinic has 8 individual therapy and testing rooms, 1 room child play room with toys, 2 large rooms for group therapy, a large student work room equipped with wi-fi internet access, a small computer lab in the clinic.
Each student is provided their own individual workspace in the student workroom as well.
Please navigate to the clinic web page for more detailed information.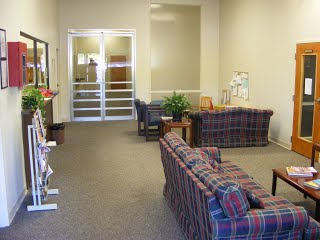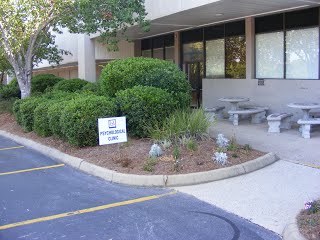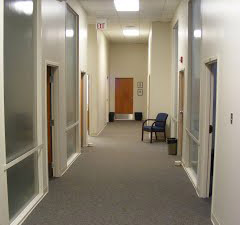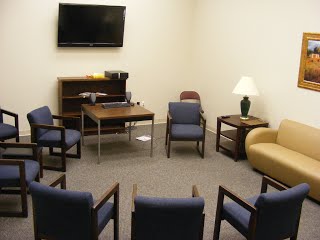 ---
Structure of Training
The CCP program's clinical training occurs in three contexts which are developmentally sequenced: a) a practicum over the entirety of the 2nd and 3rd years within the training clinic seeing a general array of clientele (six semesters required), b) specialty practica that a student usually becomes more involved in during their 2nd and 3rd year and often is linked to the mentor's research/clinical activities, and c) the capstone Internship that occurs through the APPIC match process.
USA Psychological Clinic-Based Practicum 2nd and 3rd Year: All students are expected to complete a general practicum during their 2nd and 3rd year in which they solidify their assessment and intervention skills across a wide variety of clients. These general practicum hours will be completed entirely through the Psychological Clinic. The general practicum experience extends into the 3rd year, though students begin to move into more focused specialty clinical training as well during the 3rd year and 4th year.
Didactic instruction occurs and is an integral part of the 2nd and 3rd year training clinic-based practicum.
3rd and 4th Year

Sp

ecialty

Practica:



Students can join specialty practicum teams during their 2nd year, but are not required to provide clinical services through those teams until their 3rd and 4th year. The intent is to ensure a general clinical experience in the 2nd year, and then progress to specialty experiences in years 3 and 4. Students can join multiple specialty practicum teams, but most focus on just one team and usually a specialty practicum lead by their major professor/mentor. Note that while working with specialty practicum teams during the 2nd and 3rd year students continue to see a wide variety of clients through the general practicum. During year 4 the clinical training experience is intended to be focused on specialty areas and even more so towards dissertation tasks.
These specialty teams will focus on a specific clinical population applying evidence-based models of assessment and intervention. These teams may deliver services within the clinic or in the community, but these experiences are usually coordinated by a CCP core faculty member. Typically, but not always, a student participates on a specialty practicum coordinated by their doctoral major professor and is able to integrate their clinical work and their research efforts to some degree. Also, occasionally students will be approved to complete specialty practica experiences that are external to the CCP program entirely. Such practicum would involve completing hours at an external agency, or through a specialty clinic within the USA Psychological Clinic, so long as suitable supervision can be arranged. Such external/specialty practicum are approved at the discretion of the DCT. Examples of such current external/specialty practicum teams both established and forming are:
Clinical Neuropsychology

Alabama Head Injury Foundation: TBI Support Group
Comprehensive MedPsych Systems - neuropsychological assessment
USA Athletics Department - Sports Concussion Assessment

Veterans' Mental Health

Gulf Coast VA Health Care System
Veterans Recovery Resources

Child & Family Mental Health

Alabama Department of Human Resources (child welfare)
Little Tree Preschool - special education school for developmentally disabled children
Mobile County Public School System: Just 4 Development Lab School
Strickland Youth Center & Mobile County Juvenile Court - Assessment and intervention with juvenile offenders
USA Psychological Clinic

Parent Child Interaction Therapy
Trauma-Focused Cognitive Behavioral Therapy

Integrated Health Care

Franklin Primary Care Clinic (federally-qualified health clinic)
Mitchell Cancer Institute
USA Ambulatory Health Services - Stanton Road Clinic
USA Health Systems Pediatrics
USA Family Specialty Services
USA Mobile Diagnostic Center - University Commons

College Student Mental Health: USA Counseling & Testing Center
Inpatient Psychiatry: EastPointe Inpatient Psychiatric Unit
Clinical Supervision of junior students in psychology and counseling
Hours Benchmarking:
Students are encouraged to accrue between 500-750 hours of direct clinical services (assessment and intervention) prior to their application for internship. During these three years of clinical work the student also accrues additional hours spent in indirect service to clients. The goal is for students to accrue 1500 total hours during this time period in direct and indirect hours. This translates into an average clinic case load of 5-7 client service hours per week throughout the seven semesters spanning the 2nd, 3rd and beginning part of the 4th year in the program. These hours are accrued through the general practicum in the clinic as well as through services delivered as part of a specialty practicum team a student may participate in, and finally through hours accrued if students are working in a clinical service assistantship.
Supervision
Students are assigned an individual faculty supervisor for their work in the clinic. This supervisor rotates each semester throughout the program ensuring students get exposure to a wide variety of supervisor backgrounds and perspectives. Additionally, each cohort receives 1.5 hours of group supervision from a faculty member each week as well. Over the course of the first two years students will receive approximately 200 hours of individual/triadic and group supervision from faculty.
Evidence-Based Practice
While working in the clinic students will be exposed to a variety of Evidence Based Practice models in both psychotherapy and assessment practice. Throughout practica students are guided in acquiring the attitudes and skills necessary to identify relevant evidence-based practices that fit the clinical needs and preferences of each client. These include but are not limited to:
Cognitive-Behavioral Therapy
Emotion-Focused Therapy
Mindfulness-Based Therapy
Motivational Interviewing
Biofeedback
Interpersonal Therapy
Symptom-Validity Tests
Parent Management Training
Parent Child Interaction Therapy
Culturally Competent Therapy Approaches
Internship
During the 4th year of the program the student will be completing a pre-doctoral psychology internship, with whom they obtained a match through the APPIC application process. Almost always these internships will be geographically distal from USA and Mobile.