The story of how MCOB alum, Jennifer Woods Crosby persevered.
---
Posted on January 16, 2021 by Mitchell Magazine Fall 2020
Mitchell Magazine Fall 2020
---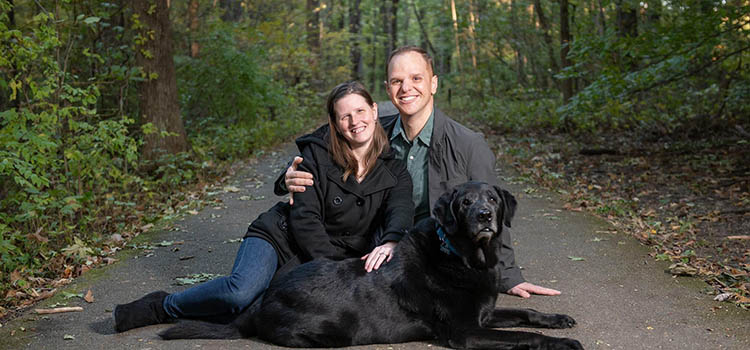 MCOB alumni, Jennifer Woods Crosby, with her husband, Patrick, and support dog, Beacon.
---
Despite how much we try, sometimes our path takes unexpected turns. Mitchell College of Business alumna Jennifer Woods Crosby is no stranger to changes of direction. Despite every roadblock, fork or detour, she perseveres and continues to excel.
At a very young age, Crosby and her twin sister were diagnosed with a coloboma. "We happened to get the rare form of a rare disease," said Crosby. Coloboma is a condition affecting the optic nerve and results in vision loss. Crosby is legally blind. It wasn't easy, but she said, "It never really held me back. I didn't know any different."
The in-state tuition and close proximity to family made the University of South Alabama an easy decision for Crosby. "South was a welcoming environment. I was 18 years old and had never been alone, so it was a little bit daunting, but everyone welcomed us with open arms and guided us through this process." Being the daughter of two business owners, Crosby was determined to do something different. So, she began the pursuit of a physical therapy degree. As she progressed through the program, Crosby realized that she really wasn't enjoying physical therapy as much as she anticipated. So, she went back to her roots and started at the Mitchell College of Business.
During her senior year, some of her upper-level classes were only offered at night, which was particularly challenging for Crosby. Determined and independent, Crosby resisted her mother's plea for a guide dog. After a tumble down the stairs, Beacon entered Crosby's life. Beacon was a beautiful black lab/golden retriever mix who stole the hearts of everyone he was around. "I think Beacon was the favorite student of every professor I had that year," Crosby said.
Dr. Kelly Woodford recalled Beacon's classroom experience. "Everyone loved Beacon. Jennifer always sat on the front row with Beacon under the desk. Beacon would start the class perky and attentive and, slowly, his head would go down to his paws. When he started snoring, we knew it was time for class to end."
At first, Crosby thought she would pursue her MBA, but soon found that also was not the pathway for her. When challenged to find which class called to her, Crosby reminisced about her Employment Law class with Dr. Woodford. Crosby said, "It finally felt like something I wanted to do." After several classes and mentor meetings with Dr. Woodford, Crosby recalled a conversation where she asked, "If this isn't the path for me, please talk me out of it because law school isn't something you do lightly. Dr. Woodford told me if I wasn't suited for law school, she would talk me out of it, and that she wasn't going to do that."
Following graduation, Crosby attended Capital University Law School in Columbus, Ohio. "They were some of the hardest, but most rewarding, three years of my life," Crosby said.
Though Crosby's legal career may have come as a surprise to her, it came as no surprise to her family. From the time she was a little girl, Crosby was notorious for negotiating everything down to her punishments. Crosby graduated from law school in 2014, and started at Connor, Kimmet & Hafenstein LLP as a legal assistant. Finally, it was her shot. "An attorney position opened up in an area in which I never thought I would practice: personal injury," said Crosby. She assists clients with personal injury matters, and she also assists with the firm's Ohio Workers' Compensation Practice.
Upon arriving in Ohio, she met Patrick Crosby at a church singles group at St. Andrew Catholic Church. After seven years of being friends, a walk in the park forever changed their relationship. Despite an age gap between the two, their relationship was blessed by Beacon, and the two were married in April 2019. "Beacon had always been around girls, so he loved a guy coming into the picture."
Overcoming so much, Crosby said one of her biggest obstacles was finding somewhere to live that could accommodate her needs. Unable to drive, Crosby needed a city with a good public transportation system. "That's actually what led me to stay in Ohio and not return to Florida" she said. The public transportation system in Ohio allows Crosby to operate independently.
Crosby credits Dr. Woodford's class for helping her learn how to be comfortable in front of others. "I am naturally an introvert. Every year I chair a church committee of over 400-600 volunteers. Someone called me a social butterfly; it's a mask. I am not, but you learn to overcome shyness and do what you have to do," she said.
"Don't let the hard days make you give up. There were many days at South, and at Capital, where I wanted to throw my hands up, give up and say I'm done. Sometimes you just have to walk away from it for an hour." Crosby also stressed the importance of having a life outside of the classroom. "You can't just go in all about studying. You have to get involved."
"Crosby's journey at South to where she is today serves as an inspiration," Dr. Woodford said.
"With the hand life dealt her, it would have been totally understandable for her to give up," Dr. Woodford said. "Instead, she always focused on what she could do and not what she couldn't do. As a result of that positive focus, she has been able to achieve great things."
Read more from Mitchell Magazine Fall 2020
---
---