Alumni Spotlight: Carson Davidenko
---
Posted on March 1, 2023 by MCOB Outreach
MCOB Outreach
---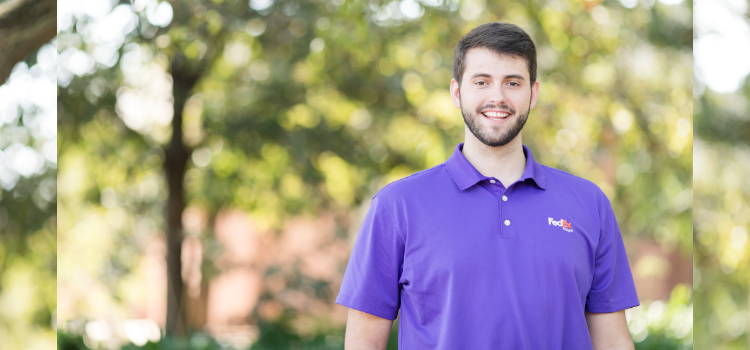 ---
After graduating in the fall of 2019 from the Mitchell College of Business– and just three years into his professional career– Carson Davidenko is excelling as a senior financial analyst with FedEx Freight in Memphis, Tennessee. His journey, however, serves as a reminder that hard work, obstacles, and change often precedes major successes and breakthroughs.
"Having spent three and a half years as a BMD (biomedical sciences) major, I had this epiphany that I was not meant to be a doctor. I walked out of a physiology class after receiving a sub-par grade on a test… and realized it was not what I wanted to do for the next ten years of my life."
For Davidenko, that exam proved to be a catalyst that would prompt a call to Mitchell College professor– and Pi Kappa Phi advisor– Mr. Hunt who connected him with Dr. Alvin Williams. Just a few days later, Davidenko sat in Dr. Williams' office to visit about switching his major to supply chain.
"After winter break, I applied to a bunch of internships at FedEx… I received a call back from John Smith, at the time Senior Vice President of Operations for FedEx Freight, and I worked under him the following summer…the particular internship that I landed catapulted my career with FedEx."
Davidenko continued to work for FedEx after returning to school in Mobile for his senior year and received a full-time operations supervisor position in Memphis following graduation.
"A year passed and I'm now working in finance. I've been fortunate to make very strong connections within FedEx. I'm very pleased to have been able to step into my current role as senior financial analyst of revenue quality for FedEx Freight."
When working for "the company that doesn't sleep," no day is the same for Davidenko, who conducts analyses on a variety of special and technological development projects. He also spends time traveling and collaborating with individuals in the operations field.
He works closely with American Trucking Association, the largest trucking association in the U.S. When the opportunity arose to join the association's Lead ATA program, Davidenko "threw his name in the hat" and was selected to regularly work with industry and political leaders to solve issues and advance the industry.
"Anything that moves will impact us (at FedEx) from a vehicle and infrastructure standpoint and I've made a few trips to D.C. to visit with our representatives about the impacts of legislation."
"If you're not uncomfortable, you're not growing," said Davidenko. "I would tell students to seek out those uncomfortable opportunities and develop as a leader… I'll keep going and growing until they tell me, 'this is the ceiling.'
For Davidenko, the sky may very well be the limit.
---
---