Alumni Spotlight: Emily Espino
---
Posted on February 24, 2021 by MCOB Outreach
MCOB Outreach
---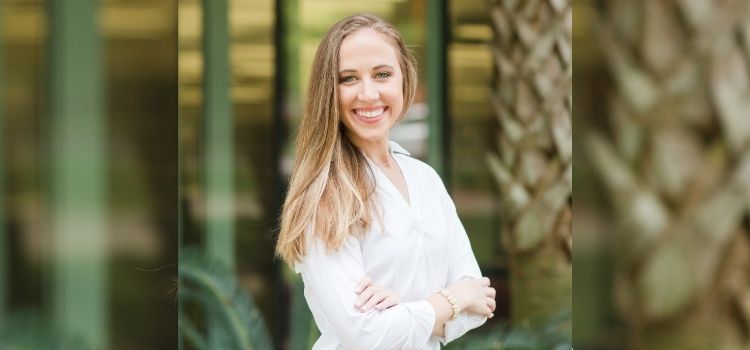 ---
Scholarships, internships, jobs, mentorships, study abroad – you name it, MCOB provides it. All you have to do is choose what you want to do!" Alumni spotlight and recent graduate Emily Viglione Espino received much more than she bargained for during her four years at the University of South Alabama. After touring over 20 different colleges with her older sisters, Emily landed in Mobile after South's unique combination of opportunities, community, and size proved the right fit for her at a USA Day. Reflecting on the tour, she said, "I immediately knew it was the college for me!"

While studying marketing management at the Mitchell College of Business, Espino didn't only pursue excellence in academics. On campus, she quickly became involved in the Student Government Association, Alpha Omicron Pi, and the Mitchell Ambassador program. One of her favorite college experiences was a study abroad trip to Italy with the Mitchell College of Business. When it came time to focus on transitioning into the workforce, Emily got a head start in her junior year. She pursued an internship in Supply Chain with Austal USA, where she worked a diligent 20 hours per week, over the course of her last three semesters.

Following graduation, Emily leveraged her experience in Supply Chain to secure a position as a procurement assistant for SSAB Americas, the largest steel plate producer in North America. She credits her internship with preparing her for the position explaining, "Prior to this internship, my only experience with the supply chain was in an introductory class required for my major. I learned a lot during that internship because I was paired with buyers and got a lot of one-on-one direction and teaching from them. It's ultimately because of this internship that I was qualified and well prepared for my current job within the supply chain at SSAB."

In addition to enjoying a fruitful new career, Emily recently married another South Alabama graduate who is a registered nurse at Providence Hospital. They are now enjoying the start of a new season and bright future together in Mobile. As active members of Grace Community Church, they both enjoy spending time with their friends and fellow church members.

Espino, as a recent graduate, leaves current students with valuable wisdom from her recent personal experiences in balance and change. Knowing many college students allocate a large portion of their energies to planning and working tirelessly, she says, "I would tell students to breathe. Seriously, take a momentary step back from what is overwhelming you and breathe. Work hard during your college career but don't be afraid to ask yourself the hard questions – "Is this what's healthy for me? Am I using my God-given talents and passions well? Should I continue in this degree or do this instead?" Do not be afraid to reevaluate what you're doing. I changed career paths a month and a half before I graduated and it was such a beneficial yet challenging decision." Her advice calls to the hard working, diligent student: There must be balance and rest in the midst of the stress, so enjoy the time of flexibility and change that college represents.
---
---