Alumni Spotlight: Avril McRae
---
Posted on November 30, 2022 by MCOB Outreach
MCOB Outreach
---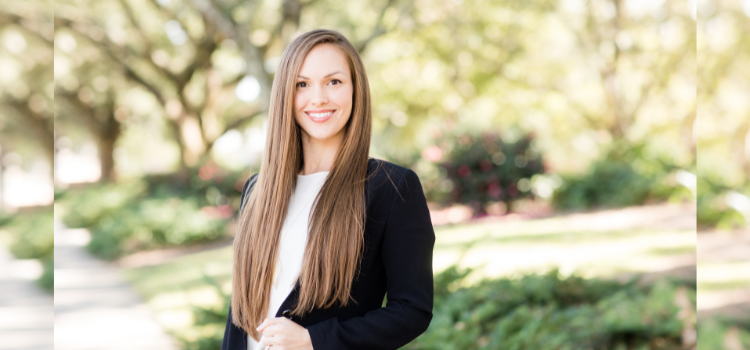 ---
A Certified Public Accountant, active community member, and mother of two, Mitchell Scholar alum Avril McRae does it all, and then some. The accounting professional– since her time as an undergraduate student– has made giving back to her community a priority.
After graduating from St. Paul Episcopal High School in Mobile, McRae stayed close to home to attend the University of South Alabama where she majored in accounting. While at South, McRae excelled in the classroom and quickly assumed a leadership role as a Mitchell Ambassador. As McRae served in her leadership capacity, she and fellow Scholar Josh Crownover developed strong desires to give back to the Mitchell College community. "Just as Mr. Mitchell provided scholarships for us, we want to pay it forward by providing the students additional resources to obtain higher education in the Mitchell College of Business."
Along with her classmate and close friend, Avril McRae was one of the first active USA students to create an endowed scholarship. Both grateful for the opportunities they received as Scholars, Crownover and McRae worked together throughout their senior year to build the scholarship. Their work was completed by the 2018 Mitchell Scholars Award Reception, during which they announced the endowment of the "Mitchell Scholars Pay It Forward Scholarship." The scholarship continues to provide opportunities for current students and will continue to do so in the future.
McRae's desire to serve and help those around her continues today and her career has led to many opportunities to uplift others across the country. She is currently enjoying a position as a CPA for Cohn Reznick, a firm based out of New York City. Working with both non-profits and her firm, McRae specializes in affordable housing tax credits which are used by low-income clients to subsidize their cost of living. Helping the disadvantaged as an accountant is a dream come true for McRae and she enjoys getting to help people from around the U.S. "Even when I work long hours, I get a warm fuzzy feeling. Working to help clients in this way is such a rewarding job." As she looks into the future, McRae hopes to continue to help clients achieve their philanthropic goals and to become a resource to the younger generation of CPAs as they navigate their career paths.
The Mitchell College is proud to highlight Avril McRae as an accomplished and philanthropically-minded alumni. Her passion for others and generous spirit are appreciated by the Mitchell College and those in her professional communities.
---
---