A Different Type of Drive: Ashley Wade
---
Posted on July 1, 2021 by MCOB Outreach
MCOB Outreach
---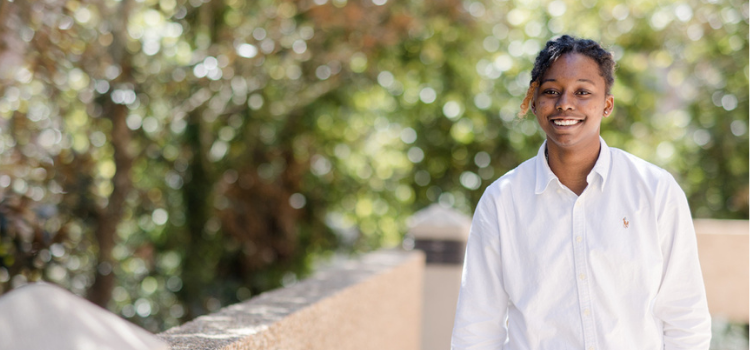 Ashley Wade
---
"I have three beautiful little brothers. They are four, eight, and nine…I want my brothers to know that they can do it too. I want to set a good example for them…At the end of the day, I know what I have to do and it's just up to me to execute." First generation college student Ashley Wade has led an impressive academic career at the University of South Alabama. Her hard work has enabled her to excel academically as a junior accounting major with a nearly-perfect GPA. Originally from Tuscaloosa, Alabama, Ashley knew early on that she wanted to branch out from her hometown and show her younger brothers that they could accomplish anything they set their minds to.
Wade has found both purpose and a second family at South and continues to be fueled by her desire to be a role model. "I feel like I have a different type of drive than other students. I want my brothers to come to South. I want them to come with purpose and drive like I did. I want them to excel like I have. I feel like some people come to college and forget the purpose of being here. We pay to be here--you might as well make the most of it." The demand of accounting coursework has not stopped her from striving to achieve excellence outside of the classroom as well.
Since arriving at South Alabama and the Mitchell College of Business, Wade has blazed her own trail. She is a member of the National Society of Leadership and Success and Phi Beta Sigma and believes that her involvement has helped her break out of her shell. In addition to rigorous academic work and involvement, Wade also completed an internship with the Alabama Pipeline Academy. Throughout the experience, she helped company management complete budget analysis and planning as well as handling payroll duties. This spring, Ashley's hard work and dedication working on a research proposal with Dr. Chow led to her acceptance into South Alabama's competitive Summer Undergraduate Research Fellowship (SURF). She will complete 10 weeks of research under mentorship from Dr. Chow throughout this summer. Her project is titled, "A Comparison of Price Returns for Portfolios Based on Company Size and Value before and During the first Year of the Covid19 Pandemic" and will explore the impact felt by the entire business community over the past year.
She further noted that the helpful and engaging nature of the community within the Mitchell College provided a major initial comfort having moved far from her close-knit family. Ashley has experienced first-hand the level of personal attention given to students at South and has thrived with the help of faculty members including Ms. Madden and Dr. Al Chow.
Ashley Wade is a testament to hard work and certainly has earned the pride and respect of both the Mitchell College and her brothers.
---
---