Commissioned Accounting Students
---
Posted on May 1, 2018 by MCOB Outreach
MCOB Outreach
---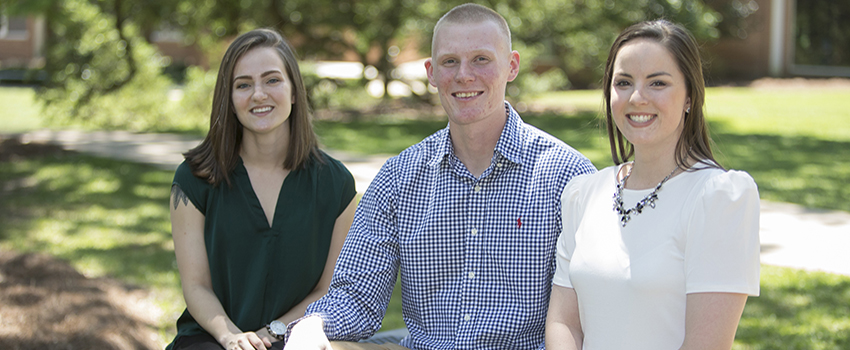 ---
The Mitchell College of Business is proud to congratulate May 2018 graduates Rebecca Briggs, Kelly Cruthirds, and Jared McClish. In addition to receiving their degrees, the three Accounting majors were commission into the United States Army having completed the Reserve Officers' Training Corp. ROTC is the college-based officer training program for training commissioned officers of the United States Armed Forces. In addition to the 120 hours needed for graduation students participating in ROTC take an additional 24 credit hours. "I am proud of these students and their commitment to the College and their country" said Dean Bob Wood. "I can think of no other higher calling than those willing to serve in the armed forces."
Rebecca Briggs was born in Birmingham, Alabama and grew up in Hueytown, Alabama. She came to South on a four-year Presidential Scholarship and full Pell Grant. Understanding her mother, a single parent, wouldn't be able to help pay for college, Rebecca took the ACT 5 times to get the needed score. In addition to her scholarship and grant, she worked two jobs to support her family. "I did not plan on going to college or even applying because of my home situation, but my guidance counselor at my high school made me (shout out to Mrs. White at Curry High School). I will be the first person in my family to graduate college and the first to be an officer in the military."
At South, Rebecca joined the ROTC program knowing it would be another way to fund her education. "After meeting the battalion and getting to know the other cadets and cadre, I fell in love with the 'family' of it. I say the people are the best part of the Army. Shared hardship fosters team cohesion." The Army awarded her a three-year full tuition scholarship with a book stipend and living expense stipend. She said, "The Army has given me amazing opportunities including travelling to Sibiu, Romania on a Cultural Understanding and Language Proficiency (CULP) Mission in 2016. In Romania my team and I spent three weeks at the Nicolae Balcescu Land Forces Academy (think Romanian West Point)."
After graduation and her commission as a Quartermaster officer, she will attend a four-month Basic Officer's Leadership Course (BOLC) at Ft. Lee, Virginia before being stationed at Ft. Drum, New York as part of the 210th Brigade Support Battalion in the 10th Mountain Division. She is very excited to be a part of the historic 10th Mountain Division.
Not only does Rebecca enjoy working hard, she likes yoga, jiu-jitsu, and cats. She noted some additional strengths and weaknesses, "I am really bad at math but I enjoy reading and writing. I am extremely grateful to everyone who has helped me through my college journey--there's no way I could have done it without all the support."
Kelly Cruthirds was born and raised in Mobile and is a graduate of McGill-Toolen Catholic High School. She decided to attend the University of South Alabama because it was close to home. She said, "the campus was beautiful, and the atmosphere was welcoming from the very beginning." She started her freshman year with two goals: one, to serve in the military in some capacity, and two, to graduate college debt free. She stumbled across the Army ROTC program early in her freshman year and has been invested in the program and developing herself as a leader ever since. "In my four years, the program has enabled me to travel and experience things I normally would not have been able to." Kelly spent a month in Africa through a cultural understanding program, earned her jump wings at the Airborne school in Ft. Benning, Georgia and has spent many weekends training at various locations across the southeast, all the while working towards a degree in Accounting.
"Thanks to the Mitchell College of Business, its wonderful faculty and staff, its alumni and the Army ROTC program, I have been able to reach both of my goals. The scholarships I received through the college and the instruction and mentorship I received from all my professors enabled me to reach my goals." On May 4th, Kelly was promoted to the rank of second lieutenant, finishing at the top of her class, and graduating a Distinguished Military Graduate. On May 5th, she graduated Cum Laude from the Mitchell College of Business with a BS in Accounting. From here, she will serve active duty as a Military Police officer at Ft. Campbell, KY, and hopes to work in the Accounting profession after fulfilling her obligation to the United States Army.
Jared McClish, from Ocean Springs, Mississippi, graduated in May with a Bachelor of Science in Accounting. After graduation he was commissioned as a Second Lieutenant in the United States Army. After his commissioning he will serve as a field artillery officer for four years in the Army. Then he plans to transfer to the Army Finance branch.
In sixth grade, Jared decided he wanted to be an officer in the US Army. "My dad told me that in order to do this, I would have to go to college and earn a degree. Additionally, he told me that if I worked hard, I could earn an ROTC scholarship that would both pay for my school and prepare me to become an officer." Jared said he took this to heart and focused everything he did throughout his life on obtaining that scholarship. After a few years of straight A's, lacrosse, JROTC, band, and Boy Scouts, he was awarded the national four-year scholarship by the US Army, allowing him to attend any college in the country on the Army's dime. Jared said, "I ended up choosing the University of South Alabama. It was close to my home in Ocean Springs, it had an ROTC program, and the campus was absolutely beautiful. The university wasn't too small or too big, and after visiting, South just felt like home."
Next, he had to pick a major. He knew he wanted to do something in business but didn't know what. During his second semester he took Principles of Financial Accounting. "I found I was kind of good at the accounting stuff, and after some encouragement from my professor, Dr. Hardin, I decided to major in accounting. Since then, I have been blessed with some of the most amazing professors a student could ask for, and my passion for the subject has only grown."
When Jared first came to South, his only goal was to get a degree so he could be commissioned into the Army. Reflecting on his experience he said, "after four years with some extremely knowledgeable professors and fantastic peers, my degree came to mean much more." When Jared's time in the Army is done, he hopes to earn his CPA and eventually open his own firm. "I believe that I would not have these aspirations if I hadn't come to the University of South Alabama and I am extremely thankful for all the lessons I have learned from my professors and peers. Go Jags!"
---
---