Global Engagement: Samantha Borden
---
Posted on May 1, 2018 by MCOB Outreach
MCOB Outreach
---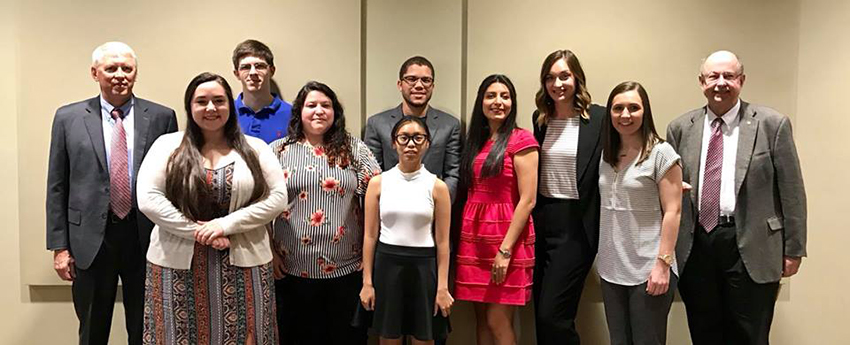 ---
Hello! My name is Samantha Borden. I was born and raised in Mobile, Alabama. I just graduated with a Bachelors of Science in Business Management with a concentration in Human Resources. When choosing a college, many important items came up, such as costs, quality of curriculum, and especially most important, the opportunity to go abroad. During my time at USA, I have successfully completed two study abroad trips and am preparing for my third and final trip as an undergraduate. The first trip was 7 days in summer 2016 with Dr. Alvin Williams in Costa Rica studying International Marketing. The second trip was 31 days in summer 2017 with Dr. Reid Cummings in England studying International Business. The third trip will be 28 days in summer 2018 with an affiliate program, USAC, in Cuba studying Economic Globalization and Cuban Cuisine.
Having grown up in a small city and family I had little awareness of the world around me. I never traveled in my younger years and wanted to experience the odd and unfamiliar environments of other countries. However, I needed something tangible to work towards that would justify three international study experiences, and in spring 2018 I found just that. Dr. Rinne, Associate Professor of German, worked very hard with educational boards to finalize the curriculum for the Global Engagement Certificate program and to bring it to students of all majors, including business. The curriculum in question is 17 credit hours total, however, many credits come from general education requirements and involvement in internships, community volunteering, or study abroad. I was able to transform my international business courses, study abroad experiences, and a 1 credit hour capstone course to form a completed checklist for the Global Engagement Certificate.
Spring 2018 was the inaugural class for the GEC, and I was one of eight students who graduated April 27, 2018 in front of esteemed faculty, staff, and guests. To have the opportunity to work with faculty and advisors to further my global competence was an honor and truly benefitted me in ways I cannot fully list. I have made many connections, gained a new perspective of the world, and fully bridged my amazing trips abroad to a tangible line on my resume and skill set list. I highly recommend other students, especially those with little education or high interest in international studies enroll in this program as it does not require an overbearing amount of courses, but rather asks you to selectively enroll yourself in courses.
This was a perfect ending to my time as an undergraduate at USA, and I am thankful for the opportunities it has provided me. In my short-term future, I will attend my second National Society for Human Resources Management Conference in June 2018 and spend four weeks in Havana, Cuba on my last undergraduate study abroad program. I am in the process of finding a full time position in Human Resources after I return. In my long-term future, I hope to return to USA and work towards my MBA. I hope to study abroad in my graduate career and look forward to the new opportunities that path will bring.
---
---