MCOB Student, Jamaal Rhodes, participated in the Mobile County Commission's Summer Internship Program
---
Posted on September 1, 2015 by MCOB Outreach
MCOB Outreach
---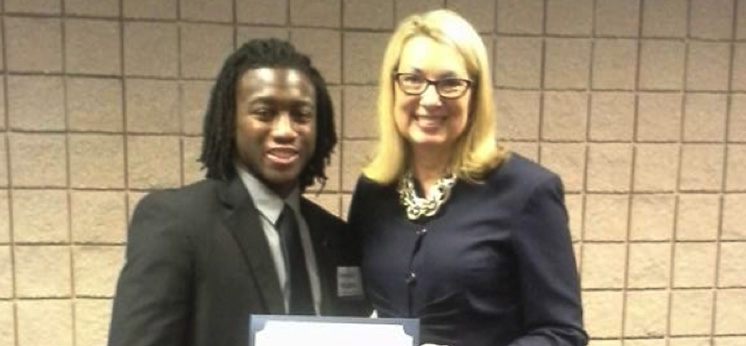 ---
Jamaal Rhodes, an MCOB student majoring in finance, participated in the Summer Youth Employment Internship Program. This is his account of his experience.
This summer, I was honored to intern with New Horizons Credit Union at their corporate office through the Summer Internship Program. The internship program lasted for five weeks and after one week of classes and training, I was matched with New Horizons. I did not know what to expect my first day there. As I walked inside the door, the first person I met was the President/CEO, Ms. Lisa Corvo. I conversed with Ms. Corvo along with others there including Ms. Sonna Reynolds, Vice President of Branch Administrations, and Ms. Cindy Stueve, Human Resources Director, explaining future plans and what exactly I wanted to accomplish in life. A few hours into my first day, I was offered a part-time position for the company (set to start as soon as my internship was over). Without hesitation, I accepted the position!

During my internship, I took part in many projects. Two of the biggest ones were helping New Horizons merge with a credit union in Jackson, Alabama, and updating the employee's training manuals. Everyone had a part in the merger and mine was to call over 16,000 member accounts and update important information that were greatly needed. After calling about 25 full pages of phone numbers, I wrote letters to the members whom I could not reach by phone. Before the internship ended, I was informed that the accounts' number was all the way down to around 900, meaning over 90% of the accounts had been updated. In my other project, I aided Ms. Reynolds in updating and preparing new training manuals. We went through every single page of the manual, rewriting, adding, and subtracting information so that it would be up to date. Both projects lasted the entire time of my internship. These were just the two major projects that
I assisted in my time there.

Throughout this experience, I have gained a lot of knowledge of the financial industry and the daily operations in the workforce. I am gratefully appreciative of the opportunity that I was given by New Horizons Credit Union and I look forward to building my career with them.
---
---