MBA Student Spotlight: Kira Benkmann
---
Posted on May 1, 2023 by MCOB Outreach
MCOB Outreach
---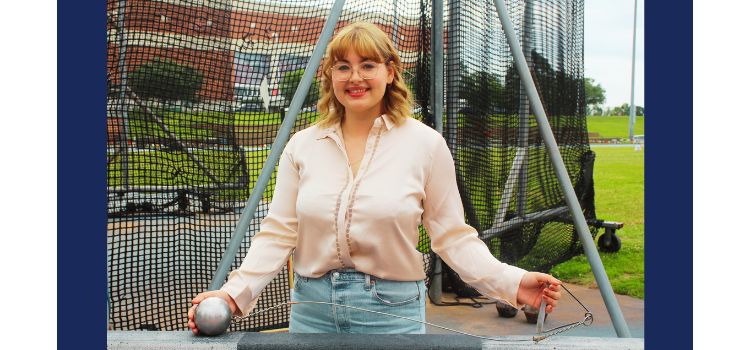 ---
Throwing her hammer from Germany to Alabama in pursuit of business degrees.
Kira Benkmann will be receiving her MBA from MCOB this summer. Originally from Mahlow, Germany, she is also a hammer thrower on the USA Track & Field Team.
"I did track in high school in Germany, and through the NCAA, I got a scholarship to come to McNeese State University in Lake Charles, Louisiana, where I got my bachelor's degree in business," she said. "Then I got an offer to come throw for South while working on my master's degree. It's one of the best decisions I've ever made."
"Working on my MBA here at MCOB has helped me figure out that I really have a passion for marketing," she said. "I've met some wonderful marketing professionals, and I'm excited about taking the next step out into the real world."
Benkmann is in the Graduate Assistant (GA) program at MCOB, working in the college's Marketing & Communications Department, and with the South Alabama Center for Business Analytics, Real Estate, and Economic Development (SABRE) group.
When Benkmann first came to the United States, she didn't know what to expect. "Coming to the southern part of America was kind of a culture shock. I struggled with the language at first. I thought I learned English pretty well in high school, where you have class once a week, and I was told my English was great," she said. "But when I got here, you have to speak English 24/7, and on top of that, everyone has a thick southern accent. So, I struggled for the first semester, but then it got much better."
Benkmann said she would recommend other foreign students come to South and step out of their comfort zone. "This experience has helped me see the world differently than I did in high school," she said. "It's been the best experience for me because it helped me grow up and figure out everything by myself. I've gotten to be very independent."
"I've also learned that we're all the same, wherever you're from. We all have the same needs," she said. "That's one of the best things I've learned coming to the US."
---
---