Mitchell College of Business Professor Craig Pearce Provides a Lesson in Twisted Leadership for the Mobile County Probate Court
---
Posted on January 1, 2018 by MCOB Outreach
MCOB Outreach
---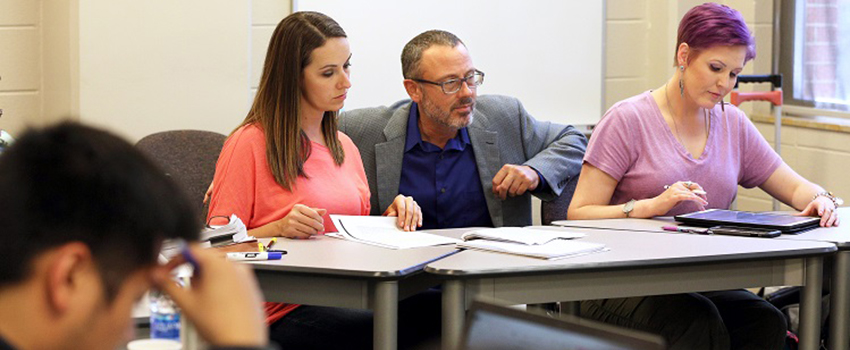 ---
On September 20, 2017, Craig Pearce, the Ben May Distinguished Professor at the Mitchell College of Business, University of South Alabama, delivered a seminar entitled "Leadership and Teamwork in the Mobile County Probate Court: Is it Time to get Twisted?", to Judge Don Davis and the entire team at the Probate Court. The seminar was based on Pearce's new book, "Twisted Leadership," and involved experiential exercises to help the participants learn the principles of twisted leadership.
The essence of twisted leadership is founded on the principles of: (1) overly centralized, top-heavy leadership is a disease; (2) nearly every single person is capable of leading, at least some of the time; (3) when we treat others as leaders--and not just followers--we engage the human spirit; and (4) together, we can lead each other to much greater heights.
Judge Davis is strongly committed to the professional and personal development of the Probate Court staff. He believes that properly equipping and training each employee goes a long way towards ensuring success, improving job satisfaction, and enhancing customer service. The Court is routinely praised for their incredible customer service, even garnering more than 500 likes on Facebook. This is way outside the norm for governmental services.
Speaking about the Twisted Leadership Seminar, Rushing Payne, the Chief of Staff and Chief Deputy Clerk of the Mobile County Probate Court, says "What this seminar did was bring to life some vivid examples and specify concrete courses of action, based on the sound science of Dr. Pearce's research, that we can take to improve our team and continue to deliver our mission at a world-class level." Tracie McCafferty, an employee in the Recording Division, added, "The seminar was interactive and held the audience's attention. We received practical advice on how to improve teamwork and performance."
At the Mitchell College of Business and the University of South Alabama we continually strive to be on the cutting edge of both organizational science and organizational practice. Our professors bridge this gap, helping organizations, both near and far, squarely address their current and future challenges.
His recent book, "Twisted Leadership", is published by Maven House Press and is available on Amazon.
---
---