Remembering Russell Ladd
---
Posted on April 22, 2022 by MCOB Outreach
MCOB Outreach
---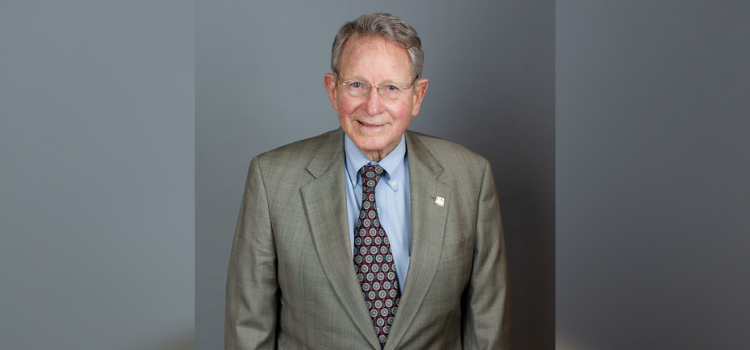 ---
The story of the MCOB is intertwined with the life and values of the late Russell Ladd. Mr. Ladd joined the inaugural MCOB Executive Advisory Council 40+ years ago. He consistently and continuously invested in the vision and mission of the EAC as a vehicle to enhance the stature and brand of the Mitchell College of Business. The EAC was established as a means to engage business executives in providing guidance on a range of matters, including curriculum development, fundraising, student job placement, and relationship building in the business community.
In addition to leading the family business, Thames & Batre Insurance, to new heights, Mr. Ladd made stellar contributions to the civic and community landscape across the Gulf Coast. Whether the Rotary Club, Goodwill Easter Seals, Alabama Delta Alliance, Dauphin Island Sea Lab, or Mobile United, Mr. Ladd gave his absolute best each and every time he engaged with one of these groups. He did not just participate; he was actively engaged, focused, and committed to the goal of the organizations. He expended that same quality energy to make us better as a business school. As a charter member of the EAC, Mr. Ladd helped set the foundation and values of the group and steered it through the dynamic waters of increased competition, changes in business practices, globalization, evolving work values, and overall advancements in the content and delivery of the educational product.
Through all of the economic and global developments, Mr. Ladd always pointed the council toward serving students. . He was student-centered and wanted our work to enhance student success. Mr. Ladd was the conscience of the group as well as our barometer. While Mr. Ladd's presence will surely be missed, the values he instilled in the EAC will long remain. In recognition of his seminal and sustained contributions to the Mitchell College of Business, the Executive Advisory Council voted to change the name of its endowed scholarship to the Russell Ladd Leadership in Business Scholarship. Future generations of MCOB students will continue to benefit from the fruits of this scholarship and learn about the values of its namesake. The Mitchell College of Business will be forever grateful for Mr. Ladd's rich and substantive efforts to make us better.
---
---