Student Spotlight: Sam Penque
---
Posted on April 25, 2022 by MCOB Outreach
MCOB Outreach
---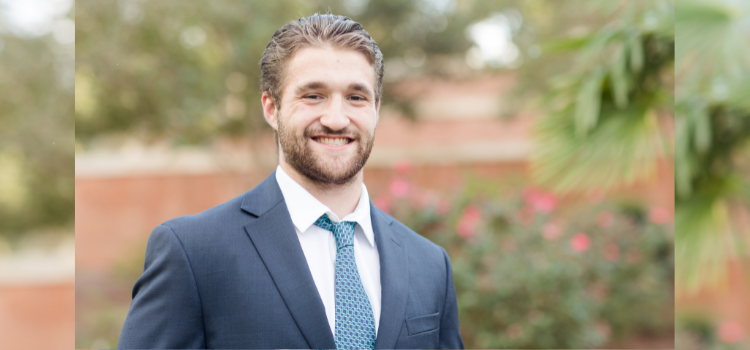 ---
Hey everyone! My name Sam Penque and I am a second semester senior majoring in Finance with a pre med track. I graduated from Hewitt Trussville in 2018, after which I came to South Alabama in the fall of 2018.
I first found out that I had a passion for business in high school. After talking with my business teacher about different career paths, she convinced me to take a dual-enrollment accounting course (of course this is where most people would have jumped ship). Throughout my first accounting class, I enjoyed learning the inner-workings of how businesses are run. I then took dual enrollment management and marketing courses which further solidified my choice of majoring in business.
However, business wasn't the only thing I became passionate about. After battling multiple injuries throughout my high school football career (a torn ACL, blown back, torn gluteus medius, and broken scaphoid bone), I started to become interested in the medical field. When I took the field after my scaphoid bone surgery, I saw the doctor standing on the sideline excitedly cheering me on; I went on to shadow her at Andrew's Sports Clinic. The shadow experience was fantastic and inspired me. I have completed all medical school prerequisites during my undergraduate career in business and plan to attend medical school.
The vast opportunities available to me were what initially drew me to South and the Mitchell College of Business. I was fortunate to receive the Mitchell Scholarship thanks to Dean Wood's recognition of my potential and transformative mentorship. He challenged me to serve as a Mitchell Ambassador, a position I have thoroughly enjoyed. Relationships and the community at the Mitchell College continued to prove invaluable to me throughout my studies. I met my closest friends in Dr. Pennywell's class when she gave us a pop quiz on the assembly of an income statement. This community and friends within the Mitchell College have supported me and challenged me to accomplish more than I could've imagined. This year I have been able to do research in my chosen major. Mentored by Dr. Lawry, I received the Summer Undergraduate Research Fellowship and conducted research into student managed investment funds. I also attended the annual SOBIE conference and presented my findings to faculty and students from regional universities.
Reflecting on my time at South, I want to also thank Jay Hunt for encouraging me to come out of my shell and introducing me to many different people; without some of these individuals, I wouldn't be where I am today. I also want to thank all of the faculty at the college for their generosity in sharing time, advice, and knowledge. Moving forward after MCOB, I will forever remember the connections and wonderful people I have had the chance to meet.
---
---