Student Spotlight: Andrew Hii
---
Posted on March 23, 2021 by MCOB Outreach
MCOB Outreach
---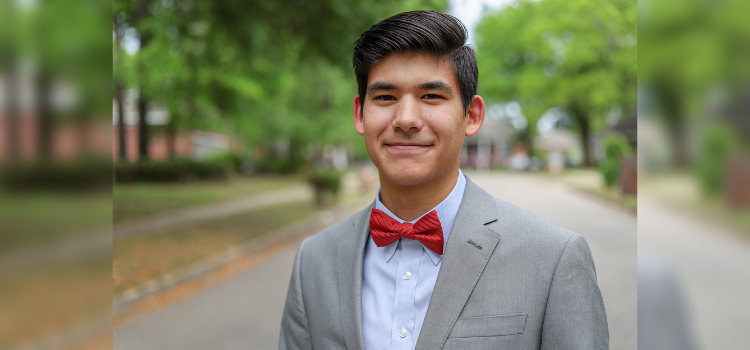 ---
Hello! My name is Andrew Hii (pronounced like he), and I am an accounting major at the Mitchell College of Business. I started my first semester in the fall of the 2018-2019 academic year. Now, I am starting my first semester as a senior. I was born and raised in Mobile, AL. When I was a toddler, my family lived in the neighborhood across the street from the Whiddon Administration Building. I never anticipated attending a
university so close to home.
Historically, my siblings decided to attend colleges in Mississippi. I visited both out-of- state campuses and South Alabama's campus. I found a home and challenge of my own at USA. Interaction with my professors continues to add to the experience. They care about your success, whether it be in the classroom or outside of it. I am the first in my family to pursue an undergraduate degree in business (as my older siblings chose
teaching career pathways).
Discovering my preference of study and forging my own path has not been easy. I am thankful for the support from my family, friends, and mentors who have encouraged me to pursue a degree in business. Many of my mentors attended the Mitchell College of Business and are successful businessmen. My brother-in-law is an alum of the Mitchell College of Business. My family and the faculty at the Mitchell College of Business saw
something in me before I could recognize it myself. Without their encouragement and love, I would not be at the University of South Alabama.
There are multiple opportunities to get involved at the Mitchell College of Business. I joined the American Marketing Association (AMA) as a freshman and served as the financial officer. Last year, I joined the Mitchell Ambassadors; it has been an excellent way to serve the college and my classmates.
My tentative plan following graduation is to further my education at the Mitchell College of Business. I want to pursue a Master's in Accounting (MAcc) and later sit for the CPA exam for the state of Alabama. My dream is to move to Europe and work for a major soccer club using my degrees. Regardless of my ultimate career choice, I believe the Mitchell College of Business has prepared me for the workplace.
---
---