Student Spotlight: Blake Batchelor
---
Posted on January 31, 2022 by MCOB Outreach
MCOB Outreach
---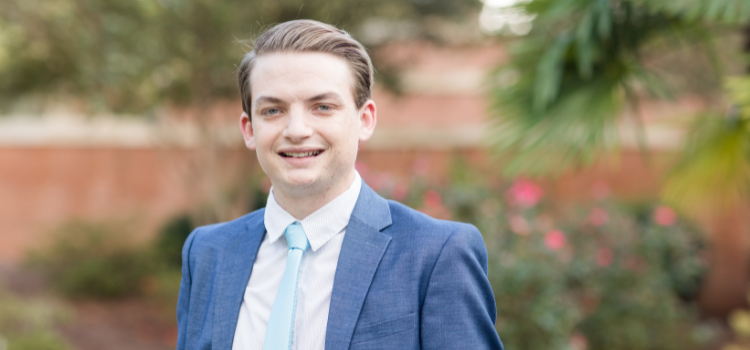 ---
Over the past four years, Mitchell College senior Blake Batchelor has been stepping out of his comfort zone and stretching toward a future he would not have expected. Batchelor, originally from Madison, Alabama, initially chose South for its location and the Mitchell College's unique International Business program. As he prepares to graduate with a dual degree in International Business and French, Batchelor has no regrets. "I love everything about South. It was so easy to get involved– I never felt like I couldn't do something. Everyone has been so welcoming," he said.
Batchelor's exemplary involvement as a dual major student in the classroom and on campus has characterized his academic journey. "Coming to South was a fresh start for me," he said, "A high point of my collegiate career has been meeting so many people, making so many new friends, and doing it all in a new place." He enjoyed working for Admissions as a South Guide and was promoted to senior guide his last year for his dedication representing the college to prospective students. He also served as an associate justice on the supreme court for SGA and is now interning for the Wesley Foundation in fundraising and development. At the Mitchell College, Batchelor is a member of the Mitchell Ambassadors, a group of student leaders who represent the college on behalf of the student body in meetings with external constituents, meet prospective students at USA Day, and participate in a variety of University and College activities. "MCOB means opportunity; there are countless ways to make connections, learn, and grow in MCOB," he says.
Now working for the Office of Student Academic Success, Batchelor continues to enjoy diligently welcoming and serving current and prospective students. Academic Success's First Year Experience (FYE) program works to serve and help first-time freshmen build a solid foundation for success by assisting students with their transition from high school to the University. His work with on-campus organizations and the university has pivoted Batchelor's future plans beyond graduation. "Working in higher-ed fits my personality and what I want from a career– far more than anything else I had considered." He now plans to pursue a master's degree in education following graduation before working in higher education.
This year, Bachelor received a fellowship to attend a national first year experience conference that will be attended by universities from across the U.S. The conference serves as an open forum focusing on crafting a positive student life experience specifically for incoming freshmen. "I am honored to have the opportunity. I truly feel like the field of Higher Education is my calling and I am eager to learn and gain experience as an undergraduate," he said. Batchelor will continue to make the University proud as he represents at the FYE conference.
---
---