Student Spotlight: Di'Quan Patterson
---
Posted on May 13, 2022 by MCOB Outreach
MCOB Outreach
---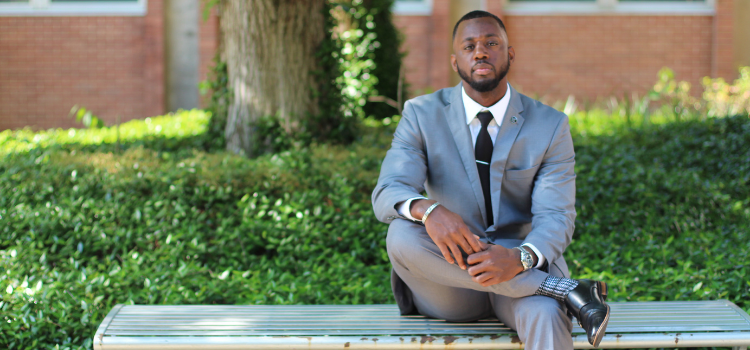 ---
Hello, everyone! My name is Di'Quan (Quan) Patterson and I am a twenty-eight-year-old freshman majoring in entrepreneurship. My choice to take time away before entering college has allowed for a rather unconventional academic journey.
I'm originally from Mobile, Alabama and grew up in the Maysville Historic District area. Growing up, I never believed that college could be a realistic option for me. Most of my friends were in jail, dead, or working dead-end jobs after high school. If I hadn't joined the military, I may have fallen into one of those categories.
I joined the Alabama Army National Guard in 2013 after my son, Dillan Patterson, was born; in fact, I swore in to service the very day he was born. I came to the realization that I needed to change my lifestyle in order for me to be a better man and for him to have a better life. Nine years and two deployments later, I am a sergeant in the U.S. Army, a homeowner–and now– a college freshman.
I chose the Mitchell College of Business because I wanted to better develop my entrepreneurial skill set. I started my first business when I was in high school providing lawn services to the people in my community and the surrounding neighborhoods. It was then that I realized the freedom of working for myself. My most recent business venture is a transportation and logistic business.
My first year was amazing; I joined C.E.O (collegiate entrepreneur organization) and have networked with like-minded people. Through C.E.O. I had the opportunity to hear speakers share their insight and make great friends in the process. I have a list of goals that I plan to accomplish next semester.
Aside from attending classes at MCOB, I enjoy learning and continued self-development. Whether physically, mentally, spiritually or emotionally, I try to grow in some aspect every day. I enjoy studying the stock market. I volunteer at the Boys and Girls Club of Mobile as well. No matter the level of success you achieve in life, I believe that it is important to always give back.
After graduation, I hope to continue managing and developing my businesses. Exposure within the business college has prompted me to plan for real estate investment and continued expansion of my portfolio. My biggest goal is financial freedom –and through my determination and hard work– it will be achieved for myself and my family. I hope that my story is encouraging to others and proof that your past does not determine your future.
---
---