Student Spotlight: Lila Brasili
---
Posted on February 24, 2021 by MCOB Outreach
MCOB Outreach
---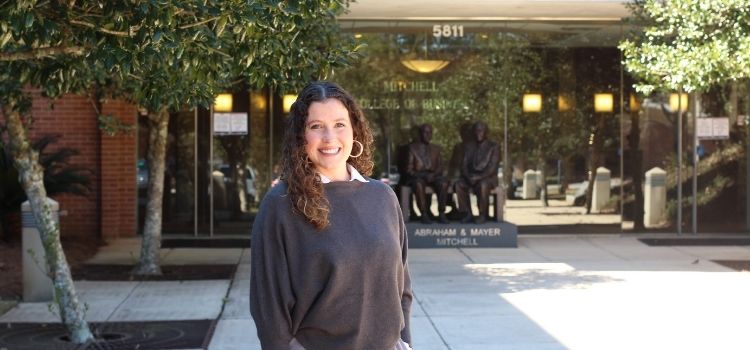 ---
Hi everyone! My name is Lila Brasili and I am a marketing major with a concentration in management here at the Mitchell College of Business. I am in the middle of my senior year and know it will be bittersweet to say goodbye to the amazing community that I have come to love over the past four years.
I grew up in Florence, Alabama. While it may seem unusual that I decided on a school six hours from home, I actually followed in my mom's footsteps to the University of South Alabama. When considering where to attend college, I knew I had to visit her old stomping grounds. After my tour of the University, I fell in love with the hospitality of the campus, faculty, and students. The proximity to the beach wasn't bad either! After returning back to Florence, I was offered a $50,000 award as a Mitchell Scholar at the Mitchell College of Business; I knew I was in the right place. Since taking a leap of faith and accepting the award, I have had the privilege of learning from the staff, getting to know my fellow Mitchell scholars, meeting guest speakers, and receiving tons of other opportunities that I would not have been able to experience without the scholarship.
Throughout my past four years at the University of South Alabama I have loved getting to know everyone on campus. I could not wait to get involved as soon as I moved in as a freshman! I was blessed to be a part of Alpha Omicron Pi and follow in my mom's footsteps once again. Being an active member of the sorority enabled me to further pursue community service, join multiple clubs on campus, hold leadership positions, and meet some amazing friends whom I will have for a lifetime.
As a student, I have made incredible connections on campus. My freshman year, I started working at the Dean's office in the Mitchell College of Business. I learned straight from the Dean as well as professors who came in and out of the office every day. After working at the Dean's office, I began working at the University of South Alabama Police Department. I was an accounting student assistant. I learned so much about the business world by being able to experience the financial side first hand. I was also able to get an incredible internship with the connections I had made on campus. I had the privilege of interning at My Lady Dye and helping the business grow through marketing and social media. With all of these opportunities, I feel like I have the perfect tools to prepare me for life after graduation.
Going into the future, I know that I will be taking everything that I have learned from the Mitchell College of Business with me. The memories made here will always fill my heart with happiness. I have been considering exploring the world of business law, but I also do not know if I am ready to take a break from my love of marketing. No matter what path I decide, I am not afraid because I will always have the support of the Mitchell College of Business behind me.
---
---