Alumni Spotlight: Major General Michael H. Sumrall
---
Posted on November 1, 2018 by MCOB Outreach
MCOB Outreach
---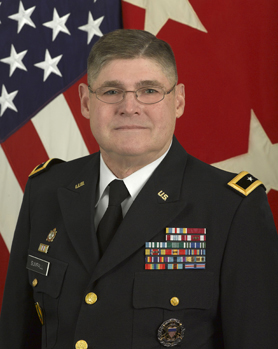 General Michael H. Sumrall is no stranger to the Gulf Coast or the University of South Alabama. Growing up in Mobile, General Sumrall attended McGill–Toolen Catholic High School. In June of 1970, he graduated from the University of South Alabama with a Bachelor of Science degree in Business Management. His hobbies include traveling, boating, playing competitive croquet, and mountain biking.
When asked why he chose South, General Sumrall stated, "South Alabama was the perfect fit for my situation. I wanted to remain in the Mobile area and work a part-time job while attending school. South was relatively small when I was a student and was a nice fit for my goals and objectives." Even though South was a new school at the time, he still thought it stood out from the others because it had an excellent staff and faculty. It also had the advantage of new facilities and small classes.
South gave General Sumrall the opportunity to develop an excellent educational foundation for all of the challenges and opportunities that would present themselves in his future. "Even today, I can remember specific things I learned from the professors and how they helped me understand and work out issues."
Being a student at South was a wonderful experience for him in so many ways. At the time, he did not fully realize the value of the diversified curriculum, but he clearly does now. When recalling his experience, he said, "The classes were challenging but a lot of fun. I was able to be a part of the early growth of South and enjoyed being involved in the development of the many traditions." He participated in many of the extracurricular activities and made lifelong friends as a student. He also enrolled in ROTC, which laid the cornerstone for a wonderful military career in future years.
After graduation, Sumrall ran a dual track career--operating small businesses in the Mobile area and serving as a member of the Alabama National Guard. It became obvious after a few years that he enjoyed serving as an Army Officer, so he entered full-time active duty. In that capacity, he served in Germany, the Middle East, and multiple locations in the United States culminating with an assignment as a Major General. He also worked with the Chairman of the Joint Chiefs of Staff and the Chief of the National Guard Bureau. Along the way, he served as the Adjutant General for the Alabama National Guard during the attack of September 11, 2001 and served at U.S. Central Command during the wars in Iraq and Afghanistan.
He retired from the Army as a Major General and elected to stay in the Washington, D.C. area. He is currently the Executive Director in the Office of the Chairman of a government contracting company that works primarily with the Veterans Administration. He works to help serve military members and Veterans.
General Sumrall is proud of the experiences he gained in the Army. "The Army did an excellent job of providing me with opportunities to increase both my civilian and military education and experiences. These credentials prepared me for roles of ever increasing responsibility, and great jobs and promotions came my way as the result of the doors that were opened for me. Great mentors were always helping me be successful and prepared for future opportunities."
General Sumrall's advice to students is to plot a long-range plan to accomplish the important things in life. Keep a good balance in life (including spiritual beliefs, family, and your chosen profession). Seek out good mentors with whom you can share your goals and seek their help in positioning yourself to accomplish your goals.
He is thankful for the time he spent at South, along with the lifelong friends he met as a student. The education he received at South provided him with: (1) a tremendous foundation for further studies; and (2) the ability to be successful while dealing with the many challenges and opportunities that he has experienced in his lifetime.
---
---