Testing Reality
---
Posted on April 29, 2021 by MCOB Outreach
MCOB Outreach
---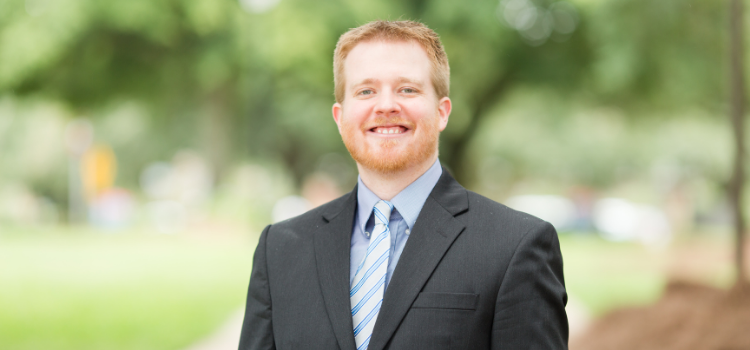 ---
I have always been interested in the latest tech trends – computers, phones, watches, and anything else with a circuit board. For this reason, one of my earliest research interests was the use of virtual reality for employee training and development.
The results of my first study were quite interesting. A group trained via virtual reality performed better on a post-test than a group trained via video, and I identified mechanisms to justify this improvement. I submitted the results to a leading business journal, and I was completely confident that it would be accepted. When the response came back, I was dumbfounded – Reject.
One reviewer comment may have been the most important feedback that I have ever received. To paraphrase, it read, "When I open a journal, I want to read about modern-day management practices – not science fiction." Science fiction!? I could barely believe it. Since then, I have made it a primary research goal to understand and spread the use of virtual reality for business purposes – particularly training and development.
I have published several articles showing that virtual reality can be more effective than other training approaches but its effectiveness depends on the technology, task, context, and user. I recently published a meta-analysis within Computers in Human Behavior demonstrating that virtual reality training programs are, on average, more effective than comparable alternatives, and the strongest predictor of program success was task-technology fit. When a virtual reality program is catered to the training task(s) at hand, it tends to work very well.
However, I also have a recent publication within the journal, Virtual Reality, that turns our understanding of virtual reality on its head. I show that certain individuals are more likely to experience virtual reality sickness (similar to motion sickness), with the most important being women. Because women are more likely to feel sick when interacting with virtual reality, this raises the paramount question of whether virtual reality can ethically and legally be applied in workplace settings, and, if it can, what evidence do organizations need to provide to ensure that their virtual reality applications do not produce disparate treatment.
Outside of the workplace, I have studied how virtual reality can improve physical rehabilitation programs. I showed that virtual reality can improve patient motivation, and rehabilitation outcomes are better when virtual reality is utilized. This research has even been referenced in The New York Times.
Additionally, I have several other core research interests, including statistics/methodology, individual differences, and well-being. Regarding the last of these, I recently published an article on workplace ostracism in the Journal of Applied Psychology. While some managers believe that they can effectively use ostracizing behaviors to motivate their employees, we showed that ostracism typically results in worse employee well-being and performance. Managers and even coworkers should not use ostracism as a motivational tool.
I also recently published an article on the relation of work and suicide in the Journal of Organizational Behavior. Suicide is very rarely studied by business professors. When I first realized this, I found it odd. Business professors constantly stress the important of work to people's lives; why would work then not relate to suicide? The fact is – it does. My article identifies several work-related domains that are believed to strongly influence suicide, which can open entire new fields of research within the study of business. Moving forward, I will strive to continue making novel discoveries in these research domains, but I also hope to apply these findings in the local Mobile community. I often work with
organizations and businesses to address their personnel needs, and any resultant data is used for
subsequent research publications. To access articles arising from these collaborations – as well as
all my other articles – please visit www.MattCHoward.com.
Lastly, I should recognize the importance of my wife, Dr. Laura Vrana, to my professional and personal success. She is an assistant professor in the English Department at South Alabama who conducts very interesting and impactful research on poetry, African American literature, and more. We consider ourselves very fortunate to both be Jags, and we do our best to serve the university as it has served us.
---
---