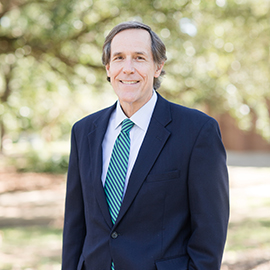 Dr. J. Reid Cummings
Interim Assistant Dean for Financial Affairs, Associate Professor of Finance and Real Estate Executive Director, SABRE (South Alabama Center for Business Analytics, Real Estate and Economic Development

---
Education
Doctor of Business Administration (Finance), Honors, Kennesaw State University
Master of Business Administration (Management), Honors, University of Mobile
Bachelor of Arts (Political Science), University of North Carolina at Chapel Hill
---
Professional Designations
Certified Commercial Investment Member (CCIM)
Accredited Land Consultant (ALC)
Certified Shopping Center Manager (CSM)
Residential Mortgage Lender (RML)
Certified International Property Specialist (CIPS)
Short Sale & Foreclosure Resource (SFR)
Certified Real Estate Brokerage Manager (CRB)
Certified Distance Education Instructor (CDEI)
Professional Licenses
Alabama Real Estate Broker

Louisiana Real Estate Broker
---
Awards
Best Paper Award, Academy of Business Research, 2018
Professor of the Year Award, Mitchell College of Business, 2016
Practitioner's Research Award, American Real Estate Society, 2015
University Scholar Award, Kennesaw State University, 2014
Practitioner's Research Award, American Real Estate Society, 2014
Best Paper Award, Academy of Business Research, 2013
Best Paper Award, Academy of Business Research, 2012
Best Paper Award, Academy of Business Research, 2011
Realtor of the Year Award, Mobile Area Association of Realtors, 2001
Golden "R" Award, Alabama Association of Realtors, 2000
---
Bio
Dr. Cummings has over 36 years of experience in real estate development, leasing, management, brokerage, financial consulting, mortgage lending, and construction services. He has completed multiple large-scale commercial, residential, and resort development projects throughout the country. He founded and operated numerous companies, including The Cummings Company and The Chamberlin Company, earned real estate brokers' licenses in Alabama, Florida, Louisiana, and North Carolina, and holds multiple professional designations.
Dr. Cummings is a member of the Leadership Alabama Class of 2021, and a graduate of Leadership Mobile and The Buckley School for Public Speaking. As a long-time member, director, and executive leader of the Mobile Area Association of Realtors, he served as its President in 2000 and won its 2001 Realtor of the Year Award. From 1999-2011, he served as a Member of the City of Mobile Board of Zoning Adjustment and was Chairman from 2003-2011. In 2011, Alabama Governor Robert Bentley appointed Dr. Cummings to the 1st Congressional District Seat on the Alabama Real Estate, reappointing him to a second term in 2016, and he currently serves the Commission as Vice Chairman. Governor Bentley also appointed Dr. Cummings to the Advisory Board of the Alabama Center for Insurance Information and Research based at the University of Alabama in 2016. Mobile Mayor Sandy Stimpson appointed Dr. Cummings to the Board of Commissioners of the Mobile Housing Authority, where he served for two years.
Dr. Cummings has authored and co-authored multiple publications for leading real estate, finance, and economics journals. He has presented academic papers, and served as a panelist or discussant at national conferences of the American Real Estate Society, the American Real Estate and Urban Economics Association, the Financial Management Association, the Academy of Economics and Finance, and the Academy of Business Research. He has served the American Real Estate Society in numerous capacities, currently serving as Secretary, Board Member, and Co-Editor of the Journal of Real Estate Practice and Education.
A frequent speaker and presenter, Dr. Cummings has been featured in numerous print, magazine, internet, and television media outlets. His current research interests include agency, brokerage, and housing markets, geo-spatial relationships, real estate development, and economic development and impact analysis.
---
Publications
Cummings, J. R., Ramirez, G. G., Sharma, D. S., and Lahtinen, K. D. (2018) "Motivating Capital Investment by Using the Audit Process to Increase Financial Transparency," Asian Journal of Finance and Accounting, 10(1), 81-114.

Forrester, R. C., Martinez, J. E., and Cummings, J. R. (2017). "Funding Constraints at Community Banks: A Pre- and Post-2008 Recession Analysis of the Role of Federal Home Loan Bank Advances," Southern Business and Economic Journal, 40(1), 1-15.

Affuso, E., Cummings, J. R., and Le, H. (2017). "The External Cost of Asbestos in the Housing Market," Applied Economics Letters, DOI: 10.1080/13504851.2017.1327114.

Affuso, E., Cummings, J. R., and Le, H. (2017). "Wireless Towers and Home Values: An Alternative Valuation Approach Using an Hedonic Spatial Error Model," Journal of Real Estate Finance and Economics, DOI: 10.1007/s11146-017-9600-9.

Cummings, J. R., and Epley, D. R. (2015). "Better Tourism Market Analysis by Including Import Gap Analysis," Tourism Economics, 21(3), 871-879.

Cummings, J. R. (2015). "Residential Real Estate Realities after the Financial Crisis: Examining the Effectiveness of Seller-Paid Incentives to Buyers and Agents," Southern Business and Economic Journal, 38(1), 1-29.

Cummings, J. R., and Epley, D. R. (2014). "A Total Requirements View of a Tourism and Hospitality Market is More Accurate than Traditional Location Quotients," Tourism Economics, 20(3), 1-20.

Cummings, J. R., and Epley, D. R. (2013). "A National Employment Profile of the Real Estate Industry and the Appraisal Profession," The Appraisal Journal, 81(1), 129-142.

Cummings, J. R., and Epley, D. R. (2012). "A Solution to Fulfill the Underwriter's Constant Need for Accurate Valuations: A True Sales Price," Real Estate Finance, 29(3), 12-20.