Economic Snapshot Overview by Dr. Reid Cummings - December 2020
---
Posted on December 16, 2020 by Dr. Reid Cummings
Dr. Reid Cummings
---
---
Regional economic development: Economic developers from Central Gulf Coast's four neighboring counties across three states offer their perspectives on 2020 and the outlook for 2021.
Greetings, and welcome to the December 2020 Mobile Bay Economic Snapshot.
What a surprising year 2020 has been, dominated by perhaps the biggest issue of our time, the Covid-19 pandemic. Starting in July, we filled our pages with key regional and national economic data and insights from leading industry professionals, featuring Baldwin and Mobile County residential real estate markets, Mobile and Pensacola Airports, Mobile and Baldwin County commercial real estate markets, national transportation data, and Alabama mortgage lending, we offered multiple gauges of the impacts of the coronavirus on Mobile and Baldwin Counties.
To close out the year, we thought it might be interesting to focus on Covid-19's impact on a measure viewed widely by economists across the country as a pivotal bellwether of macroeconomic strength: unemployment rates. To do so, we expand our range a bit, focusing on key data points for Mobile and Baldwin Counties, adding Escambia County, Florida to the east and Jackson County, Mississippi to the west. We note that although unemployment rates rose considerably in all counties during the pandemic period, they were consistently at their worst in July, but since then, have fallen steadily. While still not back to pre-pandemic levels, the downward trends across the board are encouraging.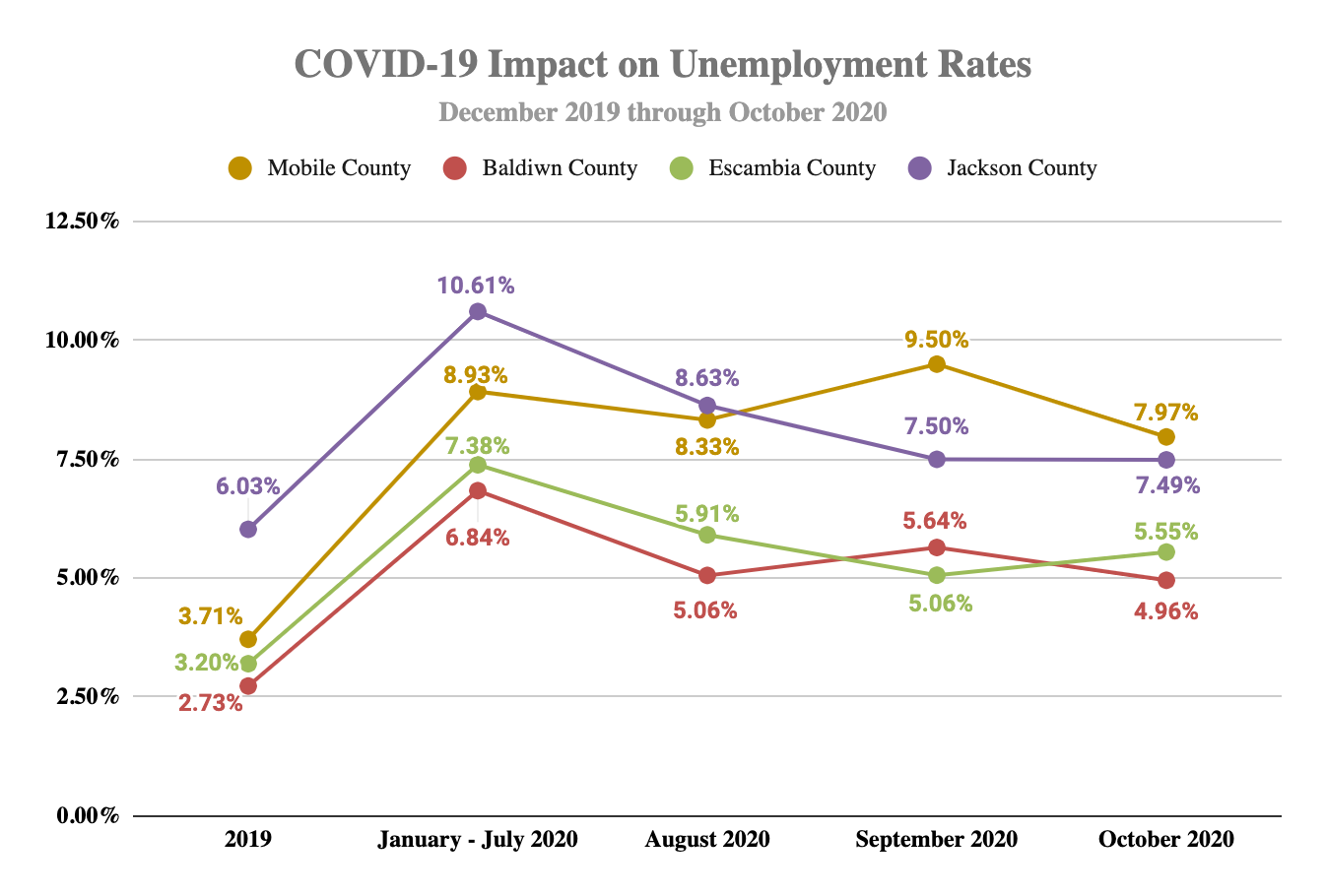 Unfortunately, the pandemic prevented us from holding the South Alabama Center for Business Analytics, Real Estate, and Economic Development's annual conference in 2020. Yet now, with widespread vaccination anticipated by the end of the summer, we are optimistic that we will once again host our conference on campus in the Fall of 2021. Looking back to our 2019 conference, remember that we offered a panel discussion featuring four of the region's top economic development professionals. Considering the pandemic's widespread impacts on so many regional economic sectors, we asked each of our 2019 panelists to share their insights on Covid-19 from an economic development perspective. They each graciously took time as they wrapped up the year to weigh in on a few questions for us and we are grateful to them all for their comments below.
************
How have the 2020 economy's many ups and downs affected your organization's economic development strategies?
"While Mobile has been very successful this year in regard to new economic development announcements, 2020 has thrown many challenges to our economic development strategies. Our team has seen a number of new and expanding projects delay decisions until companies can determine the uncertainty from the pandemic. Almost all of our in-person marketing events were either canceled or virtual, creating a new challenge for us to showcase our community as a place to do business. The pandemic has forced our team to think through our resiliency and strategies moving forward. We are now working on ways to provide more information virtually to companies looking to locate or expand in our market. We have also turned much of our focus to site development and talent attraction efforts. Seeing shifts in decision making factors for companies in large metros or global supply chains is something that we are working to position Mobile for future development." David Rodgers, Vice President of Economic Development, Mobile Area Chamber of Commerce
"In pre-pandemic times, a lot of our business and business development efforts have happened in person. We immediately shifted our resources into delivering Baldwin County's message to corporate leaders and site selectors virtually. As before, you have to be creative to set yourself apart in any business development activity, and this year was no different. We developed new virtual/digital ways of reaching key audiences." Lee Lawson, President & CEO, Baldwin County Economic Development Alliance
"Jackson County Economic Development Foundation (JCEDF) is considered one of the leading public-private economic development partnerships in the region. This organization has long positioned itself to operate from a position of strength—in all circumstances, in all environments, and under any set of conditions. With a project announcement in every quarter of 2020, this position of strength and the established momentum are serving our community well during these challenging times. Jackson County's economic development success in the past 18 months includes over $500 million in new capital investments, 3,000 jobs created in a diverse spectrum of existing and emerging sectors including advanced manufacturing, defense, commercial shipbuilding, manned and unmanned aerospace manufacturing, polymer technology, bioenvironmental testing, and tier-one OEM supplier development." George L. Freeland, Jr., Executive Director, Jackson County Economic Development Foundation. Inc.
"As for FloridaWest, our economic development strategies did not change. Our core mission is to diversify our economy by retaining companies, growing companies and to generate increased capital investment, high wage jobs, and payroll for the citizens of Escambia County. Early in the year we spent a lot of time informing our business on how to interpret the ever changing COVID-related state and federal orders and legislation. But our other work never slowed down, which was somewhat surprising. If anything, this past year has highlighted the importance of what we do as economic development agencies. Our regional economies are very dependent on tourism and between COVID and the number of hurricanes we had this year, we are reminded how quickly that industry can be disrupted. Most all of the companies we work with were considered essential and continued operations and employment throughout all of the challenges this year. What did change this year was how we did our job. Like everyone—lots of virtual meetings and almost no travel." Scott Luth, Chief Executive Officer, FloridaWest Economic Development Alliance
With every new Presidential Administration, business owners often worry about the impacts of potential policy and regulatory shifts. From a business retention perspective, what are some of the concerns you are hearing from your organization's members?
"I think it is too early to tell what a new Presidential Administration will mean for our existing business and industry. Our project pipeline and leading the State of Alabama in incoming private investment suggests that there does not seem to be a ton of hesitation in investing in Baldwin County in the near term and over the next 18-24 months." Lee Lawson, President & CEO, Baldwin County Economic Development Alliance
"JCEDF, along with our key allies and partners, is focused on a great many state and federal issues, legislation, and economic development and environmental policy matters that impact our recovery and continued economic resiliency. This organization is leading efforts and working diligently within multi-level partnerships to position this community to take full advantage of all recovery resources and opportunities. It is our strategy to remain dedicated to supporting our existing industry partners and to continue working on a number of projects and federal policy initiatives that are intended to enhance our community and retain the economic multiplier of our success." George L. Freeland, Jr., Executive Director, Jackson County Economic Development Foundation. Inc.
"What private business hates the most is uncertainty when it comes to governmental oversight. Usually the election year is the worst because leadership decisions are postponed until the new year when industry can adjust and plan for the next four-year cycle. In a new administration we will see some companies benefit from change while and others may not. As new foreign and domestic policy is introduced we will need to be mindful of how that will impact our companies. Some in our community may see significant growth." Scott Luth, Chief Executive Officer, FloridaWest Economic Development Alliance
"Many companies have been much more concerned regarding the rebound from the pandemic than the presidential election. We will be watching new policy very closely, especially as it relates to supporting manufacturing jobs, trade agreements, oil and gas, and tax plans. Being a large port city, the majority of our GDP relies on import and export capabilities. Our community could see positive or negative impacts depending on the policies and regulations put in place. We have heard positive news from the U.S. Navy in regard to future plans for naval vessels needed by 2045. As this will directly affect our two largest manufacturing operations in our region (Austal and Ingalls), we will watch this closely under the new administration." David Rodgers, Vice President of Economic Development, Mobile Area Chamber of Commerce
As everyone looks to 2021, what are the biggest opportunities for economic development efforts in your region?
"Jackson County's success is made possible through a collaboration of public sector officials who are focused on advancing the economic development of our community coupled with the support of a corporate sector staunchly committed to attaining these goals. These tightly woven partnerships will aid us as we continue to unify our efforts, seek to increase connectivity with our partners, arrive at deeper levels of problem-solving, and broader community growth. We have a strong commitment to continue seeking opportunities to diversify our industrial base and a responsibility to support the expansion efforts of the existing companies—this strategy serves the county well in good economic times, but it serves us, even more, when there is a downturn in the economy." George L. Freeland, Jr., Executive Director, Jackson County Economic Development Foundation. Inc.
"In 2021 FloridaWest will be launching our new CyberCoast target industry campaign. We will be spending time and new resources focused on growing local Cyber and IT talent and businesses that are focused on protecting the public sector. Pensacola has an existing cluster of federal missions, private companies, and premier educational programs that support this new growth strategy for our area." Scott Luth, Chief Executive Officer, FloridaWest Economic Development Alliance
"Our team believes some of the biggest opportunities lie in our ability to market our region for global supply chains. The pandemic has exposed many companies that relied on global supply chains. As we saw different countries impose different regulations, policies, or shutdowns due to the pandemic, many companies saw operations in other regions slow or stop altogether. Our team believes that many of these companies will begin to rethink supply chains and inventory moving forward. We also believe that there are opportunities for companies to locate in smaller metros, especially with back office and headquarter operations. The pandemic has caused companies to rethink office layouts and policies such as working from home. The low cost of living in our market and quality of life should be appealing for companies to consider." David Rodgers, Vice President of Economic Development, Mobile Area Chamber of Commerce
"In Baldwin County, we see continued residential housing demand, significant investments in commercial/industrial projects, especially in the logistics space, and white-collar and healthcare projects will also lead the way for Baldwin County in 2021." Lawson, President & CEO, Baldwin County Economic Development Alliance
As we move toward widespread COVID-19 vaccination in the months ahead, what are your expectations for regional economic activity?
"Our regional activity should pick up and we should see tourism return. When that happens our hospitality industry will come back to full speed and our great quality of life will once again be one of our greatest strengths along the Gulf Coast. Our special quality of life is what helps us to be successful in growing and recruiting new business. Companies have indicated that they do not have any issues attracting workers. Pensacola's positive attributes provide an excellent work-life balance. Our quality of life is complimented by diverse and friendly neighborhoods, warm, beautiful weather, and a community driven towards success." Scott Luth, Chief Executive Officer, FloridaWest Economic Development Alliance
"In early December we hosted our annual State of the Economy event for the Mobile Area Chamber of Commerce. As we have done in the past, we surveyed our membership on their outlook for 2021. 49% of the respondents plan to reinvest in their company to purchase new equipment or software. 23% of respondents planned to go after a new domestic market. While we do see 2021 as a recovery year, our expectation is that we will see a rebound for our region faster than other regions due to our diversified economy. The confidence in the vaccination will help this effort." David Rodgers, Vice President of Economic Development, Mobile Area Chamber of Commerce
"My expectation and hearing from our healthcare providers are there will be widespread vaccination coverage by the middle-later part of the year. Hopefully, that coverage will continue the strong confidence we already see economically and for visitors and our tourism economy, which propels the entire state financially." Lawson, President & CEO, Baldwin County Economic Development Alliance
"There are strong grounds for optimism that the widespread availability of vaccines in the next several months will aid economic recovery and is bound to lower uncertainty and boost the economy. Our feeling is that economic activity will continue to gradually increase, eventually reaching pre-pandemic levels. Jackson County is fortunate to have public officials who understand the endorsement of good public policy to help business and industry succeed. JCEDF's responsibility is to remain on course with our strategy of collaboration, creative solutions for projects seeking opportunities, working with our educational and training partners to enhance the development of workforce talent pipelines on all levels, and to be prepared to respond to the needs of our existing companies." George L. Freeland, Jr., Executive Director, Jackson County Economic Development Foundation. Inc.
************
With 2020 now in our rearview mirror, looking to 2021 we see promise on several fronts. Echoing the spirit of our economic development friends, we look forward to brighter, prosperous, and more personally engaging days in the year ahead. Until next time, from everyone at the Center, we wish you and yours all the best.
---
---