Jaguar Drumline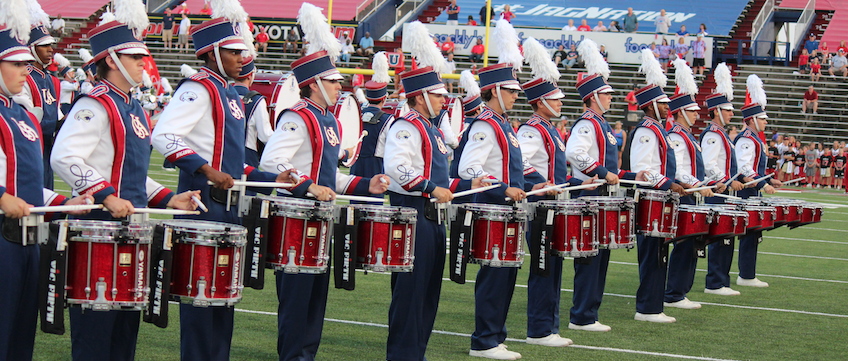 About
The Jag Drumline fields a full marching percussion section (snares, tenors, bass drums, and cymbals) with a front ensemble, and boasts a modern playing and arranging style. All members are chosen by audition and receive a scholarship. Dr. Luis Rivera and Prof. Matt Greenwood direct and arrange for the USA Jag Drumline.
In order to audition, students must be enrolled as a full-time student at the University. You do not have to be a music major or minor to participate in the marching band. All percussionists must audition for the Jag Drumline. Percussionists accepted as a music major or minor into the USA Department of Music and USA Percussion Studio are automatically placed on the Jag' Drumline, though they must audition to determine instrument placement.
Every percussionist who gains membership in the USA Jaguar Marching Band will receive a $2000 annual scholarship, renewable each year the member successfully re-auditions for the JDL. Scholarships increase by $250.00 for each year of service in the Jaguar Marching Band.
Equipment
The Jag' Drumline is sponsored by Pearl percussion instruments, Remo drumheads, Vic Firth sticks and mallets, and Sabian cymbals. The JDL marches custom shells, chrome hardware, red-sparkle drums and HHX Synergy cymbals. JDL will field up to 8 snares, 4 tenors, 5 bass drums, 8 cymbals as well as up to 12 members in the Front Ensemble including 4 marimbas, 2 vibraphones, and 1 xylophone. NOTE: ALL sticks and mallets are provided for JDL members by the USA Marching Band and supporting sponsors. You WILL need to bring your own sticks and mallets for auditioning purposes with the exception of those auditioning for bass drum.