USA Color Guard: Information and Auditions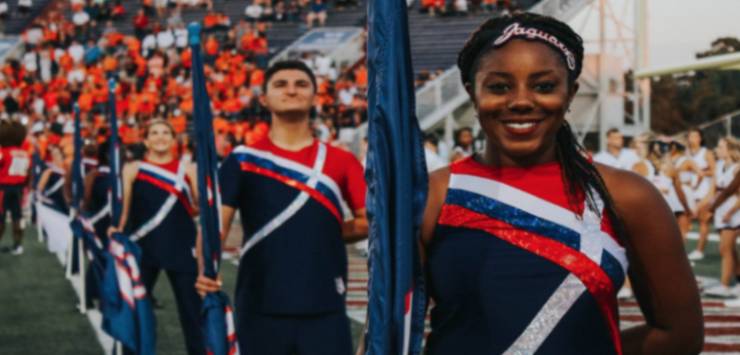 Due to the USA campus being closed to help prevent the spread of Covid-19, the USA Color Guard Audition Clinic has been cancelled. If you have registered on the Interest Form then we will be sending out information soon about how auditions will proceed. Thank you for your interest in the University of South Alabama!
About the USA Color Guard
No other performing unit can add the color, motion, and field coverage provided by a color guard. The USA Jaguar Marching Band seeks a group of dynamic performing men and women who can consistently provide these elements. Auditions for the 2020 USA Color Guard will take place in an all-day event held on the USA campus on April 18, 2020.
Students must be fully admitted to the University in order to audition, and must be full-time students to participate in the Color Guard. Also, students may not exceed age 28 as of August 1, 2020.
The USA Color Guard rehearses Monday, Wednesday-Friday from 4:00-6:00PM during the fall semester. All members of the USA Color Guard must enroll in the University Marching Band Course (MUO 130). Each member of the JMB Color Guard receives a scholarship for their participation and all costs for equipment and travel are covered by the university.
To receive information about the USA Color Guard please make sure to fill out the Color Guard Interest Form!
2020 USA Color Guard Audition Information
We will be holding a FREE USA Color Guard Audition Clinic on March 21, 2020 from 1:00-5:00pm on the campus of the University of South Alabama.
Register for the 2020 USA Color Guard Audition Clinic
You can register for this free clinic to help prepare for your USA Color Guard Audition and also meet the color guard staff that work with the Jaguar Marching Band!
Auditions for the 2020 USA Color Guard will be held on April 18, 2020 on the campus of the University of South Alabama. In order to audition you must fill out the JMB Online Intent Form.
Freshmen and Transfer students must fill also fill out the Audition Application through JagSpot.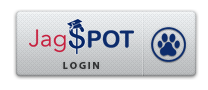 On audition day, Check-in will begin at 8:30AM and the entire audition goes until approximately 4:00PM. After the audition, there will be a mandatory meeting for all who are selected for the USA Colorguard. Students selected for the USA Color Guard will receive a generous scholarship for their participation in the Jaguar Marching Band as long as their academic obligations are upheld.
For the audition:
Students should prepare a 1 minute individual performance routine highlighting flag and movement/choreography skills. The auditionee may add up to two 30 second segments to highlight auxiliary skills in weapons (rifle or sabre). The total individual routine should not exceed 1.5-2 minutes.
A group routine will be taught during the audition following the individual routine portion of the audition.
Audition Practice Videos for Reference