Jag Drumline Audition Materials Now Available
---
Posted on April 4, 2015 by William Petersen
William Petersen
---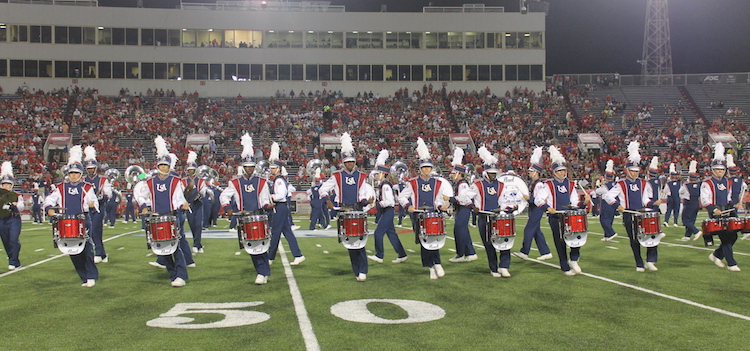 The Jaguar Drumline performing at Ladd-Peebles Stadium at a USA football game in 2014.
---
Audition materials are now available for the 2015 Jaguar Drumline! Please visit www.jaguarmarchingband.org and click on "Jag Drumline" on the sidebar to find out more information about the audition process!
Prospective drumline/front ensemble students must apply to audition by completing the 2015 JMB Intent Form ,be accepted, and be enrolled as a full-time student at USA. Students must present their JAG# or JAG Card at the time of the Audition. You do NOT have to be a music major or minor to participate in the Jaguar Marching Band. ALL percussionists must audition/re-audition for the Jag Drumline. Every percussionist who gains membership in the USA Jaguar Marching Band will receive a $2,000 renewable annual scholarship that increases by $250.00 for each year of service to the JMB. As a member, you will enjoy the excitement and pride of being a part of the USA Jaguar Marching Band!
Important Dates
Auditions for the 2015-2016 Jag Drum Line and Front Ensemble will be held in July of 2015. In order to audition, students must be fully admitted to USA, and must fill out a Jaguar Marching Band Intent Form.
Audition Camp: (Battery and Front Ensemble): Thursday, July 9 through Saturday, July 11

Jag Drumline Audition Clinic (Open to all interested current and prospective JDL and Front Ensemble members): Saturday, May 30, 2015

Jag Drumline Camp: Friday July, 31 through Tuesday, August 4, 2015.

JMB Band Camp (All JMB Members): Wednesday, August 5 through Saturday, August 15, 2015
Audition Materials
2015 Jag Drumline Snare Audition Packet
2015 Jag Drumline Tenors Audition Packet
2015 Jag Drumline Bass Drum Audition Packet
2015 Jag Drumline Cymbals Audition Packet
2015 Jag Drumline Front Ensemble Audition Packet
2015 Jag Drumline Audition Clinic
Join us on on May 30, 2015 for the Jag Drumline Audition Clinic from 10:00AM-4:00PM! Great sessions for both battery instruments and front ensemble.
Free clinic with instruments and lunch provided!
Register for the Jag Drumline Audition Clinic
---
---