Seven Faculty Members Receive TeamUSA Awards
---
Posted on January 27, 2017 by Alice Jackson
Alice Jackson
---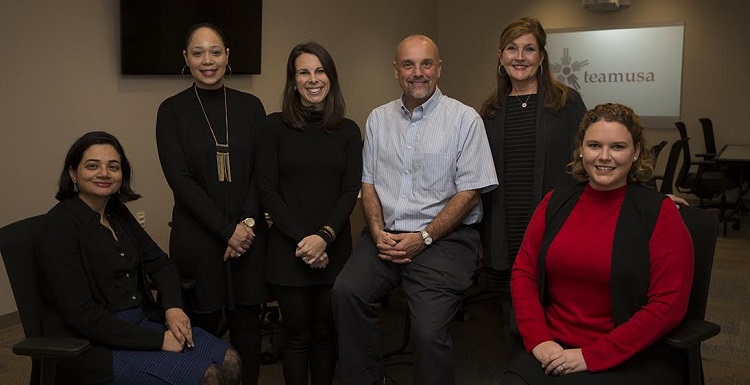 Recipients of internal funding grants for TeamUSA projects are, from left, Dr. Zoya Khan, associate professor of Spanish; Kimberly Jordan, MSN, RN, instructor of adult health nursing; Colleen Lynch, MSN, RN, CNL, instructor of adult health nursing; Dr. Phil Carr, Chief Calvin McGhee Endowed Professor of Native American Studies and professor of anthropology; Dr. Debra Swanzy, RN, assistant professor of adult health nursing; and Dr. Elizabeth Allison, assistant professor of leadership and teacher education. Not pictured: Dr. Theresa Wright, RN, vice chair and associate professor of adult health nursing.
---
Seven faculty members will use internal grants for a variety of classroom projects to enhance South's team-based learning program, TeamUSA.
Three reviewers with expertise in team-based learning, research and/or scholarship of teaching and learning evaluated the proposals based on specific criteria, said Dr. Julie Estis, director of quality enhancement plan and associate professor of speech-language pathology.
TeamUSA faculty members focus on creating a team-based learning environment where students are held accountable for coming to class prepared and ready to participate in discussions. It includes reading before class, taking tests as individuals and teams, using the latest audiovisual technology, discussing challenging questions, practicing by doing and students solving real-life problems in teams.
Recipients met Thursday, Jan. 26, with Estis; Dr. David Johnson, provost and senior vice president for academic affairs; and Dr. Angela Coleman, associate vice president for institutional effectiveness.
Recipients, award amounts and their programs:
---
---