Summit To Support Underrepresented Student Success
---
Posted on March 17, 2022
Joy Washington
---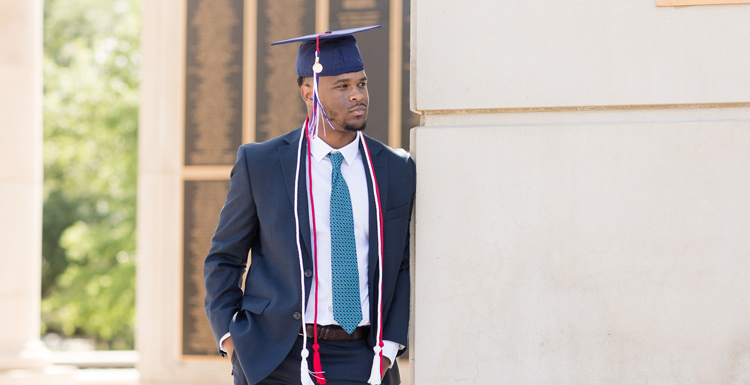 The USA Black Faculty & Staff Association is hosting its first Education Summit focused on retention to inform underrepresented students at South Alabama about successful strategies to graduate with a degree. It will be held from 9:00am until 12:00pm on April 2, 2022, at the Mitchell Center Waterman Globe..
---
The Black Faculty and Staff Association is hosting an inaugural Education Summit on Retention for underrepresented students enrolled at the University of South Alabama.
The event will take place from 9 a.m.-noon, Saturday, April 2, 2022, at the Mitchell Center Waterman Globe due to expected inclement weather. High school students who have been accepted into South can inquire about attending this event.
The BFSA and other event organizers invite interested and eligible students to register for the summit to exchange ideas and learn innovative strategies that promote student success. Summit takeaways will enhance chances of leveraging the full college experience and the accompanying resources offered by the institution and its faculty, staff, students, and alumni. Admission is free, but registration is required. Student attendees will receive breakfast and lunch along with several Jag swag give-a-way items.
The event organizers are Interim Dean of the Mitchell College of Business Dr. Alvin Williams; Dr. Matthew Pettway, assistant professor of Spanish in the department of modern and classical languages and literature in the College of Arts and Sciences; Dr. Benterah C. Morton, assistant professor in the department of leadership and teacher education in the College of Education and Professional Studies; Director of the African American Studies Program Dr. Kern Jackson; Mitchell Center Events Manager Antonio Birch; and Director of Prospective Student Programs and New Student Orientation Dr. Delisa Johnson, adjunct professor.
"This summit represents a collective effort to transform the graduation rate of our underrepresented students," said Assistant Professor in Modern & Classical Languages & Literature Dr. Matthew Pettway. "We will provide them with the tools they need and make them aware of existing resources so they can achieve degree completion at South Alabama. It's our responsibility to support and empower underrepresented students. This event will provide those important resources that are needed to help these students graduate."
According to event organizers, this student-engagement experience will emphasize pathways to thriving, improving retention, study skills, student wellness, and building communities of student accountability that lead to student achievement. Travis Davis, a 2011 graduate of South Alabama, will be the keynote speaker and facilitator for this interactive summit, which will also feature breakout sessions. A college degree opens many doors of opportunity that are quite frequently accompanied by higher salaries and job satisfaction. Summit participation increases the likelihood of staying on course toward graduation.
"I want to share my experience with students in hopes to motivate and inspire them to have a great college experience and meet their goal of graduating," Davis said. "When I started college at South, I had some life challenges, but thanks to USA, I found my sanctuary here at this great university. "
Davis is proud to say South was his launching pad for success. Dr. Kern Jackson served as Davis' mentor, being instrumental in helping him stay focused on the big goal of graduating from South.
"I want to share my experience with the students in hopes to motivate and inspire them to achieve their dreams," Davis explained. "I will speak on wellness and how to seek help when you need support. Students have to "keep their eye on the prize," which is earning a degree."
Davis earned two master's degrees from the University of Massachusetts at Amherst. He is also a Ph.D. candidate in Afro-American Studies from the University of Massachusetts at Amherst.
Davis will also share his experience as a 2015 White House Intern at the White House Initiative on Educational Excellence for African-Americans. During his leadership, President Barack Obama created this initiative as a cross-agency effort aimed at identifying evidence-based practices to improve student achievement.
Davis is a research assistant for the W.E.B. DuBois Afro-American Studies Department at the University of Massachusetts at Amherst. He has been a presenter and workshop facilitator at numerous conferences.
He recently accepted a position at South Alabama as education curator for South's Archaeology Museum located in the Alfred and Lucile Delchamps Archaeology Building.
Click here to register by March 25, 2022, for the Education Summit on Retention.
"More than two/thirds of all academic dean units contributed to the summit," Williams said. "Recognizing that student success is a University-wide challenge, deans wanted to show support and commitment to this event."
If you have any questions, send an email to bfsa@southalabama.edu. For information about Student Academic Success at South Alabama, click here.
---