Nearly 40 Years After Graduating, Retired Vice Admiral William "Dean" Lee Walks at Commencement
---
Posted on December 10, 2016
Alice Jackson
---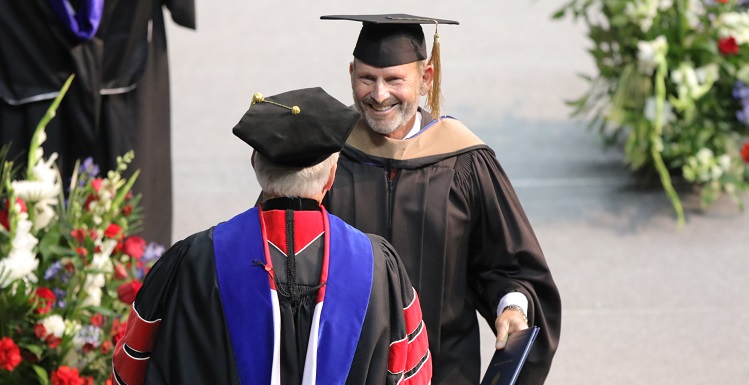 Retired Coast Guard Vice Admiral William "Dean" Lee's name was the first called Saturday as he led graduates to receive their degrees, then to shake hands with USA President Dr. Tony Waldrop. Lee graduated in 1979 but did not walk, "something I've always regretted."
---
Retired U.S. Coast Guard Vice Admiral William "Dean" Lee advised and entertained graduates of the University of South Alabama on Saturday as he delivered their Commencement address, then joined them in line to walk across the Mitchell Center stage and receive his own diploma.
Lee, who completed his studies in criminal justice at South in 1979, didn't participate in his class commencement, telling this year's graduates that he decided "instead to go to Pensacola Beach and spend the day with my buddies — and it was something I've always regretted."
Lee's name was the first called as he led graduates from the College of Arts and Sciences to receive their degrees, then to shake hands with President Tony Waldrop. As Lee raised his arms in celebration, the audience applauded and cheered. In all, 1,504 degree candidates were recognized Saturday.
Lee, who retired from the Coast Guard in October after serving 14 tours in 36 years at virtually all levels, rose from enlisted status to operational commander for all missions from the Rocky Mountains to the Arabian Gulf, spanning across five of the Coast Guard's districts and 40 states, overseeing 60 percent of the Coast Guard, including 21,000 active duty members as well as thousands of reservists and civilian employees.
Lee's keynote address was interrupted several times with applause from the audience as he outlined his five rules for success:
Get Going: "The party's over. Learn to adjust course. A college professor took a few minutes with me one day to talk about the GI Bill because I didn't have the money to go to law school. He was a Coast Guard reservist, and I ended up taking the test here in Mobile and entering the Coast Guard. Because of Dr. Robert Barrow, who is here today and is living proof teachers can change lives, I found a calling that I never knew was there."
It's About How You Finish: "I learned that my job wasn't to be the smartest guy in the room. It was to be part of the team. It was to pull my weight the best I could and to work with others. People skills are far more important than the SAT scores of your classmates. You don't know who will finish, or in what order. You will all stumble, fall and fail at some point. The question is whether you will stay down or get back up."
Get a Moral Compass: "I've had to fire many people who were excelling at their jobs, but who decided to end their careers over unethical decisions. The world doesn't owe you a job, your company doesn't owe you a pay raise because you've been there six months. You don't get a day off because you had to come in on Saturday. Your boss will care about one thing. Can he trust you? Be smart. Protect your brand at all costs."
Learn to be a Leader: "Lead like you want to be led. Follow like you want to be follow. This is the Admiral Lee summary of all the leadership books I've read, and it is my favorite one: Do unto others as you would have them do unto you."
Whatever You Do, Do It with Gusto: "I remember the late Dr. Martin Luther King's speech where he once told people 'If you're going to be a street sweeper, then absolutely be the best street sweeper you can be.' The true measure of success isn't what you have achieved, but rather the number of people you touched with a positive way, by the number of people who would voluntarily work with you again.
Finally, Lee told the students that while some members of his own generation have written books about how today's young people are going to fail, he believes the opposite.
"I know you aren't going to fail because I can see it in your faces," Lee said. "Just remember, no matter how high you climb that ladder of life, stay on it. Finish well!"
---