This Is Where I Belong
---
Posted on December 30, 2020
Joy Washington
---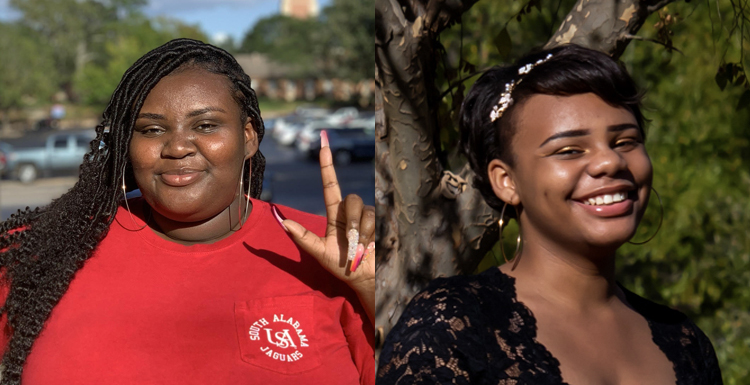 Temple James, left, and Yavaniy Garraway have been named winners of the "I Belong" essay contest hosted by the Department of English, Honors College, Student Academic Success, and Counseling and Testing Center.
---
There's potential and purpose in everyone, especially when they have found a place where they belong. Yavaniy Garraway and Temple James are the winners of the first "I Belong" essay contest at the University of South Alabama.
USA's Department of English in the College of Arts and Sciences, Honors College, Student Academic Success, and Counseling and Testing Center hosted the essay contest.
"Many of the students answered the call to provide a creative self-reflection on their journey to belonging at South Alabama," said Kristi Clayton, coordinator in the Office of Student Academic Success. "We congratulate both Yavaniy and Temple. We are enriched by their journey to discover how they feel about belonging to the Jaguar family."
Garraway, a junior transfer student from Hattiesburg, Miss., is majoring in music education in USA's College of Arts and Sciences. She became connected to South Alabama once she found a couple of organizations that aligned with her interests, like USA's Baptist Campus Ministries and the National Residence Housing Honorary.
"I love writing, and I was excited to submit my essay for this competition," she said. "And, as I wrote my essay, I reflected on how I was being supported at South to meet my goals. And, the organizations I belong to made me even more comfortable as a student at South Alabama. I have been able to grow spiritually, professionally, and socially."
James, a junior from Montgomery, Ala., is studying marketing at USA's Mitchell College of Business. Serving as a resident advisor in USA Housing has allowed her to have a deeper connection with South Alabama.
"Pursuing my degree and working in Housing as an RA at USA have allowed me to grow professionally," James noted. "My experiences at South have made me into the person I am today. It was so easy for me to write this essay. I shared my connection between my passion in organizations and using what I have learned as a springboard to professional development. "
Garraway, a graduate of Hattiesburg High School thinks of the word diversity when she thinks of South, and James, a graduate of Booker T. Washington High School, thinks of one word for South, and that's belonging.
---