Jag Card Photo Submission
Why submit your photo online?
You can select a photo of your choice.

Pick-up of your Jag Card at orientation will be quick and easy.

You will save time and effort during your orientation visit because you will not have to wait in line to have your photo made.

Photos must be submitted at least one full business day prior to your New Student Orientation session.
Your Jag Card proclaims you as a member of the South Alabama community and is your key to access essential campus services. You will be required to show an official government-issued photo ID when you pick-up your card.
Ready to submit your photo? Here are some things you need to know.
To login you will need make sure you have a GET account.**Remember: your username is your J number and your password is your JagMail password.
All communications will be sent to your JagMail email account.

Be sure to check your JagMail email account to verify the status of your Jag Card.

All photos must meet certain criteria. It should resemble a

driver's license or a passport photo

. Which means close up of your face and a plain background. SEE BELOW.
If the picture is submitting sideways, make the picture smaller. Use can use Microsoft paint to reduce the size.
Pictures are only approved Monday thru Friday. Please allow for at LEAST 24 hours to receive a status update about the picture you uploaded.
If you are an online student, you will need to send payment and a self-addressed stamped envelope before anything can be done.
***GRADUATE NURSING STUDENTS:***
Please just email a photo to jagcard@southalabama.edu. DO NOT use the GET system to upload your photo. When we receive your self-addressed stamped envelope and payment, we will make your nursing badge. Nursing badges are $5. Checks can be made payable to USA.
Here are some DOs and DO NOTs for submitting a photo: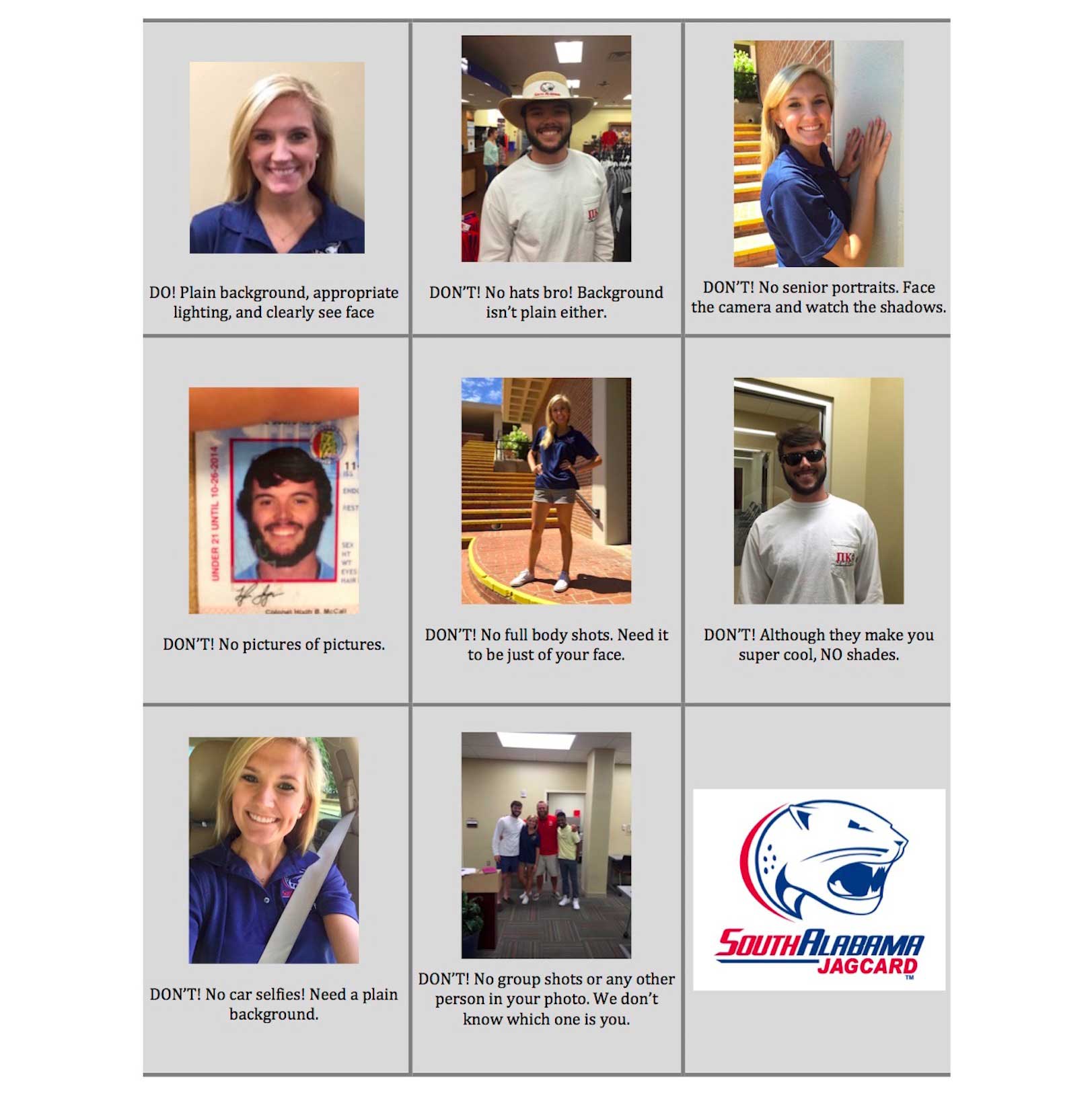 Ready to Upload your photo?

Register here!
---
If you have issues or questions, please email scs@southalabama.edu or call the Jag Card office at (251)460-6077.