Majors and Minors Home
About the Major
The physical education program uses both coursework and field experiences to prepare students to plan, implement and evaluate physical education programs in elementary, middle and secondary schools. Successful completion leads to a Class B Alabama teaching certificate.
Jobs in Physical Education
Elementary through secondary physical education teacher
Sports coach
Camp/activities director
Athletic director
Personal trainer
Related Programs
Marine Veteran Is Turning His Passion into a Career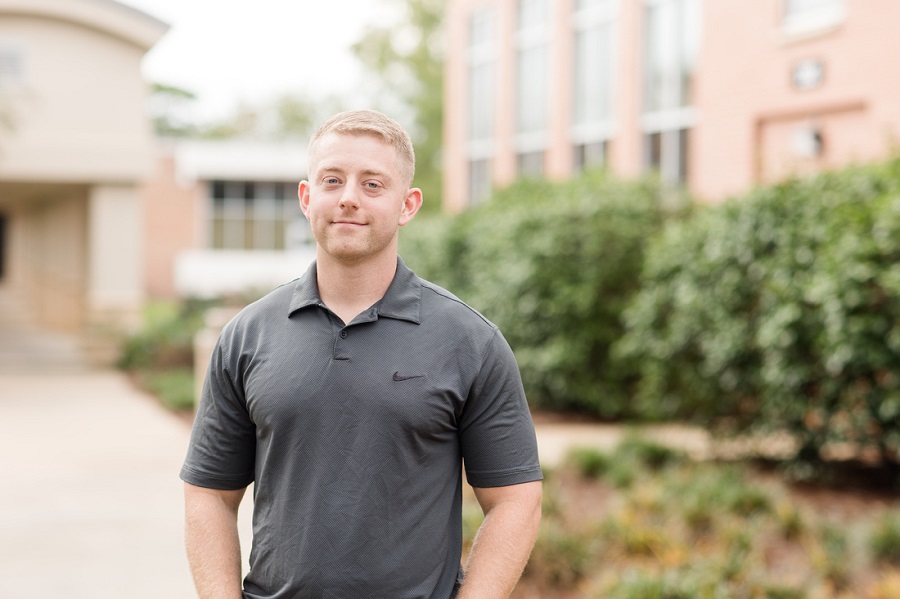 After four years in the Marine Corps, Aaron Orso decided to return home to Mobile and the University of South Alabama.
He was nervous, at first, but the discipline and organization he learned in the military helped him complete remedial classes. Then he made his way through the curriculum in physical education.
"I was kind of scared of school, but it was easier than I thought, and I've been on the Dean's List a majority of my time," said Orso. "I look at it as a job, and I'm there to do my work."
He has a wife and a young son. He often works more than 30 hours a week driving a forklift at a regional distribution center. He also serves in the Air Force Reserve.
Orso grew up in Mobile. His great-grandfather was a Marine who fought on Iwo Jima during World War II. He went to school at Faith Academy, where there was a strength and conditioning coach.
"I was kind of scared of school, but it was easier than I thought, and I've been on the Dean's List a majority of my time."
"I thought he had the greatest job in the world," he said. "I'd like to teach at the middle school or high school level, so I could be a coach as well."
In the Marines, where Orso was stationed at Camp Lejeune, he worked in electrical engineering. He also became a martial arts instructor.
"I'm training all the time," he said. "I love weight training, powerlifting, cross-training. If there's a training program out there, I've probably tried it."
Orso's education was interrupted for a year when he was deployed to the United Arab Emirates. The family planning wasn't ideal, but it worked out in the end.
"My wife got pregnant right before I left," he said. "I made it home just in time to see the birth. I also was able to re-enroll with the support of South's staff and the faculty, who gave me guidance to ensure I would succeed."
Did You Know?
---
The Health and Physical Education Majors Club is a registered student organization at South where students can find peer support.
The major is both state approved by the Alabama State Department of Education and nationally accredited by the Council for the Accreditation of Educator Preparation.
Students complete extensive field placements/student teaching in preschool through grade 12 settings. We integrate technology into the program to enhance teaching practices and analysis.
Contact:
Dr. Craig Parkes
Assistant Professor
Department of Health, Kinesiology and Sport
(251) 461-6731