Archaeology in Action: The Virginia Street Site (Part I)
---
Posted on September 9, 2022 by Rachel Hines
Rachel Hines
---
This series shares results from our ongoing archaeological fieldwork. Our current focus is the I-10 Mobile River Bridge (MRB) Archaeological Project, an effort to excavate 15 sites along Mobile Bay before the I-10 project. Stay tuned as we share updates from our work!
Earlier this year, we wrapped up work at our first site, the Virginia Street Site (also known as 1MB551). Like much of our project area, this site is located along Mobile Bay on the outskirts of downtown Mobile. Evidence spanning 2,000 years of Mobile's history was uncovered on this half-acre plot of land. Our team collected over 14,000 artifacts and recorded 162 features; these archaeological remains are tangible reminders of the people who lived here.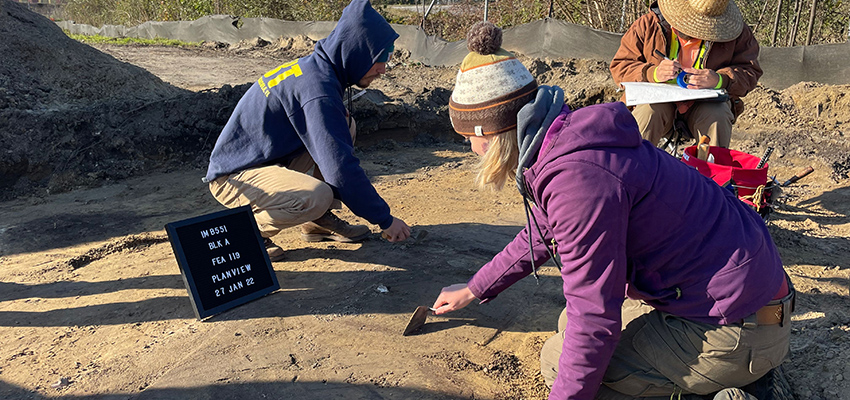 Archaeologists working at the Virginia Street Site earlier this year. Courtesy of Justin Stickler.

Stories at this site include those of early Mobilians who lived here over 2,000 years ago, colonial and early American period settlement during the 1760s-1820s, and a bottling plant from the mid-20th century. Most of the site is a turn of the 20th century residential area and was part of the working-class, predominantly African American neighborhood known as Down the Bay. Preliminary results from our excavations hint at these stories, though we will continue to analyze our data over the next few years to learn more about the people who lived and worked at this site.
The oldest part of the site dates to the Woodland period (3,000-1,000 years ago), a time of technological innovation and population growth in the Eastern United States. The earliest artifact from the I-10 MRB project area so far was found here at the Virginia Street site: a "Bayou La Batre Stamped" pottery sherd. Archaeologists assign names to pottery styles that often refer to the site the artifacts were first identified, in this case, from a shell midden site in Bayou La Batre. This style is found throughout the Mobile Bay area. Based on past research, archaeologists believe Woodland peoples produced Bayou La Batre Stamped ceramic vessels between 2,650 and 1,800 years ago.1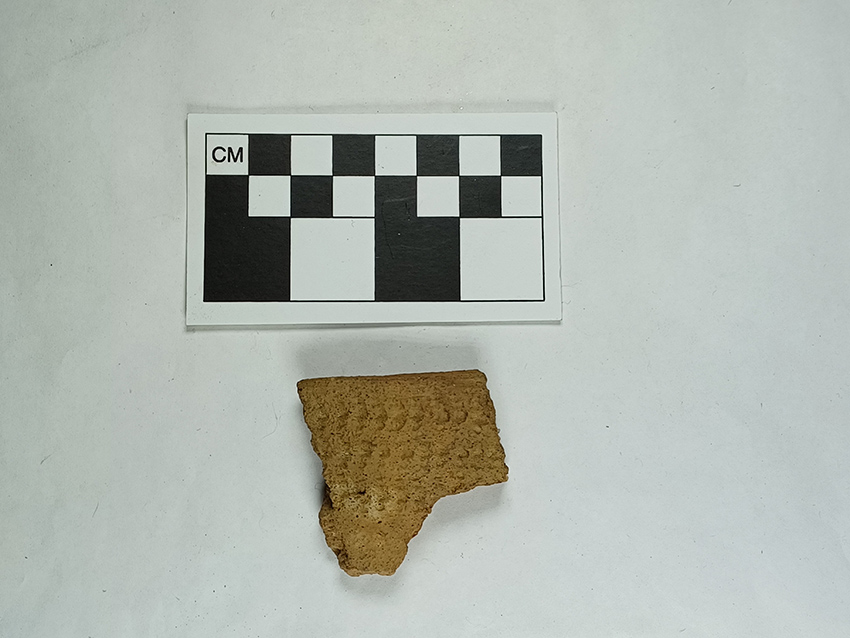 Bayou La Batre Stamped pottery sherd, the oldest artifact found at the Virginia Street Site.

Artifacts like the Bayou La Batre Stamped pottery sherd are considered diagnostic, which means it can be associated with a cultural period. At the Virginia Street site, other diagnostic artifacts from the Woodland period include a Collins projectile point (1500-1200 years ago) and an Alligator Bayou stamped ceramic sherd (1800-1500 years ago). These artifacts remind us of the people who lived in this region and used these tools to procure and process food. There are only three other recorded archaeological sites in urban Mobile with artifacts from the Woodland period, making this a significant find. This site expands our understanding of where Woodland people were located on the landscape and how they utilized local resources.
Mobile's landscape has changed quite a bit over the past few centuries; thousands of years ago, the Virginia Street site would have been closer to Mobile Bay, as much of today's shoreline was artificially created through filling. The map below shows colonial Mobile on a bluff above low-lying tidal marshland. The Virginia Street site is not on the map, but is located to the upper left. That area typically isn't depicted on early maps because, at that time, it was on the outer periphery of Mobile.
1763 "Plan of Mobile" map created by Philip Pittman. Courtesy of the Norman B. Leventhal Map and Education Center (https://collections.leventhalmap.org/search/commonwealth:hx11z479f)
However, colonial artifacts were found at the site, pointing to use of this area during the 1700s. These artifacts still present a bit of a mystery to our team. These artifacts could represent an outlying Native American or colonial domestic settlement. Another possibility is that these features relate to the ca. 1780 Spanish army encampment during the Siege of Mobile. As our analyses continue, we will be able to learn more about who was living here.
Keep an eye out for our next post about the Virginia Street Site, where we'll share more about the people who lived there during the 19th and 20th centuries. If you're interested in learning more about the I-10 Mobile River Bridge Archaeology Project, visit https://mobileriverbridge.com/archaeology-updates/ or follow us on Instagram and Facebook (@USAarchaeology).
---
1University of South Alabama Center for Archaeological Studies (2019). Proposal for Phase III Data Recovery for the Interstate 10 Mobile River Bridge and Bayway Widening Project, ALDOT Project DPI-0030(005), Mobile and Baldwin Counties, Alabama. University of South Alabama Center for Archaeological Studies, Mobile, Alabama.
---
---