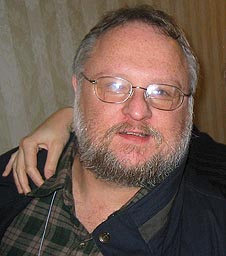 Professor

---
Ph.D. - Ecology and cytogenetics
Memorial University, NF - 1991
---
Research Interests
Freshwater Ecology & Entomology
---
Recent Publications
Daniel CE, McCreadie JW. 2014. Assessment of Mercury accumulation in the water column, stream sediments and larval black fly (Diptera: Simuliidae) tissue in the coastal streams of Alabama, USA. Journal of Water, Soil and Air Pollution, in press
McCreadie JW, Bedwell C. 2014. Species composition of local riffle beetle assemblages in small coastal streams of the Gulf of Mexico: the influences of local and regional factors. Aquatic Ecology, in press
McCreadie JW, Bedwell CR. 2013. Patterns of co-occurrence of stream insects and an examination of a causal mechanism: ecological checkerboard or habitat checkerboard ? Insect Conservation and Diversity. 6, 105–113.
McCreadie JW, Adler PH. 2012. The roles of abiotic factors, dispersal, and species interactions in structuring stream assemblages of black flies (Diptera: Simuliidae). Aquatic Biosystems. 8, doi: 10.1186/2046-9063-8-14 (Editor's Pick).
See More
---
Courses
Ecology (BLY 325)
Basic ecological principles operating in terrestrial, freshwater, and marine ecosystems. The student is required to develop and undertake an independent research project. The purpose of this project is to give the student an indication of what constitutes ecological research. Computers will be used extensively in this course for both student projects and population simulations.
General Entomology (BLY 354)
Emphasis is placed on insect form, function, classification, and evolution, as well as their impact on human societies. In addition, the student will be expected to make an insect collection of at least 75 families with at least 75 specimens.
Freshwater Ecology (BLY 426/526)
With emphasis placed on lakes, streams, ponds, and wetlands, this course will focus on four major aspects of freshwater ecology: i) physical and chemical properties of water; ii) ecology and taxonomy of aquatic organisms; iii) links between different freshwater systems; and iv) human influence on freshwater ecosystems (eutrophication, acidification, hydroelectric projects, introduced species etc.). In addition, students will be required to submit a collection of local freshwater invertebrates and fish.
Biometry (BLY 520)
The aim of Biometry is to provide a solid foundation in some of the applications of basic statistical techniques used in modern biological research. In addition the student will become familiar with several commonly used statistical software packages. Topics covered in this course were selected because they are commonly encountered in the practice of biology and will provide a basis for learning other techniques.