Meteorology Curriculum and Tracks
Students pursuing a Bachelor of Science in Meteorology enroll in the core curriculum and choose one of three specialty tracks: professional meteorology track, broadcast meteorology track or graduate school track. South also offers a minor in meteorology.
Choose Your Track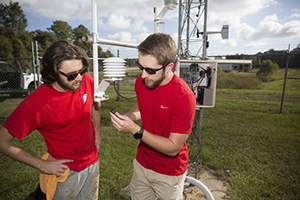 Professional Meteorology
Prepare for employment with the National Weather Service, the military or employment with private weather forecasting services.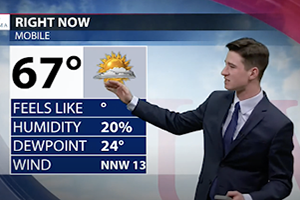 Broadcast Meteorology
Want a career in radio and television? The broadcast meteorology track gives students training and hands-on experience.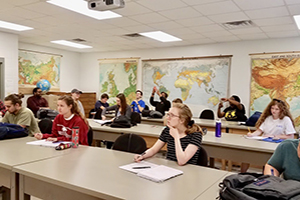 Graduate School
The graduate school track is available for students who would like to further studies in meteorology above the undergraduate curriculum.
Students pursuing a bachelor's in meteorology are required to take 49 semester hours of meteorology and 15 hours of mathematics, as well as courses in physics and statistics. In addition, basic education requirements must be met as set forth by the USA College of Arts and Sciences. A minimum of 120 semester hours is necessary for graduation.
Meteorology is a discipline that requires a strong background in mathematics. Therefore, it is essential that the student proceed as quickly as possible into calculus since it serves as the foundation for most meteorology and physics courses.
The meteorology curriculum consists of a core of 33 semester hours of meteorology courses plus three specialty tracks (16 semester hours each). Students must enroll in the core curriculum and choose at least one specialty track.
The detailed curriculum requirements for the major and minor in meteorology are below.