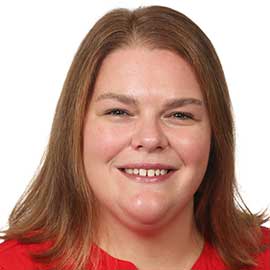 Dr. Sarah Koon-Magnin
Associate Professor Department of Political Science and Criminal Justice

---
Education
Ph.D., Crime, Law, and Justice, The Pennsylvania State University
M.A., Crime, Law, and Justice, The Pennsylvania State University
B.A. Sociology, University of Missouri - Columbia
B.A. Religious Studies, University of Missouri - Columbia
---
Biography
Dr. Koon-Magnin is a member of the American Society of Criminology, the Division on Women and Crime, the College of Arts & Science's Gender Studies committee, and the University of South Alabama's Violence Prevention Alliance.
Dr. Koon-Magnin serves as co-Director of the Forensic Science minor.
---
Research interests

Her published work deals with perceptions of sex offender legislation and her current projects focus primarily on the experience of sexual assault victimization and responses to sexual violence. She has published in such journals as The Journal of Criminal Justice, Violence and Victims, Journal of Interpersonal Violence, Sex Roles, and Perspectives on Sexual and Reproductive Health.
Criminal Justice Policy
Criminology
Gender and Criminal Justice
Research Methods
Sexual Offending
Sexual Violence and Crime
Victimization
---
Recent Publications
Schulze, C., Koon-Magnin, S., and Bryan, V. (2019). Gender Identity, Sexual Orientation, and Sexual Assault: Challenging the Myths. Boulder, CO: Lynne Rienner Publishers.

Koon-Magnin, S., Haynes, S. H., & Ruback, R. B. (2019). Condemnation of statutory rape based on respondent race, perpetrator race, and victim race. Violence and Victims, 34(3), 414-433.

Messinger, A. M., & Koon-Magnin, S. (2019). Sexual Violence in LGBTQ Communities. In Handbook of Sexual Assault and Sexual Assault Prevention (pp. 661-674). Springer.
---
Courses
CJ 105: Introduction to Criminal Justice

CJ 223: Introduction to Forensic Science

CJ 360: Theories of Offending

CJ 403: Sexual Violence