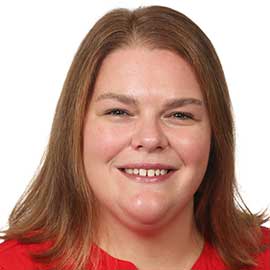 Dr. Sarah Koon-Magnin
Associate Professor

---
Education
Ph.D., Crime, Law, and Justice, The Pennsylvania State University
M.A., Crime, Law, and Justice, The Pennsylvania State University
B.A. Sociology, University of Missouri - Columbia
B.A. Religious Studies, University of Missouri - Columbia
---
Biography
Dr. Koon-Magnin is a member of the American Society of Criminology, the Division on Women and Crime, the College of Arts & Science's Gender Studies committee, and the University of South Alabama's Violence Prevention Alliance.
---
Research Interests
Her published work deals with perceptions of sex offender legislation and her current projects focus primarily on the experience of sexual assault victimization and responses to sexual violence. She has published in such journals as The Journal of Criminal Justice, Violence and Victims, Journal of Interpersonal Violence, Sex Roles, and Perspectives on Sexual and Reproductive Health.
Criminal Justice Policy
Criminology
Gender and Criminal Justice
Research Methods
Sexual Offending
Sexual Violence and Crime
Victimization
---
Recent Publications
Habel, Philip, Ruth Moon, and Anjie Fang. 2017. "News and Information Leadership in the Digital Age." Forthcoming at Information, Communication and Society
Valeriano, Brandon and Philip Habel. 2016. "Who Are the Enemies?: The Visual Framing of Enemies in Digital Games." International Studies Review 18: 462-486.
---
Courses
CJ 205: Introduction to Criminal Justice
CJ 223: Introduction to Forensic Science
CJ 360: Introduction to the Offender
CJ 403: Sexual Violence