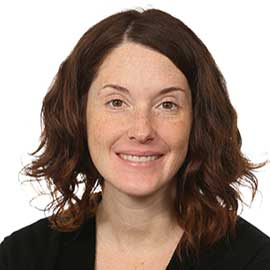 Dr. Holly Peterson
Assistant Professor

---
Education
B.A. Auburn University Montgomery, 2006
M.P.A. Auburn University Montgomery, 2013
Ph.D. Oregon State University, 2019
---
Biography
Dr. Peterson comes to South after completing her Ph.D. in Public Policy at Oregon State University. Before moving to Oregon, she studied public administration at Virginia Tech and holds an M.P.A. from Auburn University Montgomery. Prior to graduate school, she worked in operations and risk management at Planned Parenthood of Alabama.
She studies the role of information framing and narratives in policy process dynamics like agenda setting in political institutions, policy change, and community responses to policy efforts. Her research has been published in Policy Studies Journal, Politics & Policy, and in edited volumes like The Oxford Research Encyclopedia of Climate Science.
---
Research & Teaching Interests / Availability for Media Commentary
Policy process dynamics; Narratives & information framing; Energy & environmental policy; US government; Research methods; Policy & organizational theory
---
Example Publications
Pierce, Jonathan J., Leanne Giordono, Holly L. Peterson, and Katherine C. Hicks. 2019. "Common Approaches for Studying the Advocacy Coalition Framework: Review of Methods and Model Practices." The Social Science Journal. In Press.
Peterson, Holly L. 2018. "Political Information has Bright Colors: Narrative Attention Theory." Policy Studies Journal 46 (4): 828-842.
Peterson, Holly L. and Michael D. Jones. 2016. "Making Sense of Complexity: The Narrative Policy Framework and Agenda Setting." In The Handbook of Public Policy Agenda Setting. Nikolaos Zahariadis (editor). Edward Elgar: 106-133