Admission and Curriculum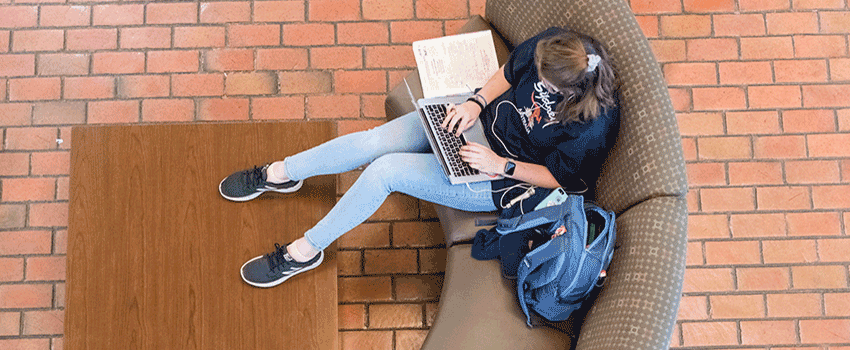 Pre-Professional Social Work Major
▼ Freshman and Sophomore Years
Freshman and Sophomore Years– Pre-professional Social Work
Written Composition
EH 101 English Composition I (min gr. C)
EH 102 English Composition II (min gr. C
Humanities & Fine Arts (no more than 6 hrs. in one discipline)
Fine Arts Elective (ARH 100, ARH 103, ARH 123, ARS 101, DRA 110, MUL 101)
Literature elective* (EH 215, 216, 225, 226, 235, or 236)
2nd Lit to complete sequence OR Humanities/FA/Literature elective if HY seq completed
Humanities/FA/ elective
Natural Sciences & Math
MA 110 or higher
BLY 101 and lab (4 cr. hrs.)
Lab Science (4 cr. hrs.)
ST 210 Stat Reasoning & App
History/Social & Behavioral Sciences (no more than 6 hrs. in one discipline)
History elective* (HY 101, 102, 135, or 136)
SY 109 Intro to Sociology
PSY 120 Intro to Psychology
ECO 216 Macroeconomics OR AN 100 Intro to Cultural AN OR 2nd HY to complete sequence
Additional Major, College, & USA requirements
CA 110 Public Speaking
Foreign Language I
Foreign Language II
CAS 100 New Student Seminar (freshmen only)
SW 200 Intro to Social Work and Social Welfare (min gr. C)
SW 214 Soc Wrk Skills & Fld Exp (min gr. C)
SW 220 Power, Privilege, and Oppression (min gr. C)
Total Credits: 67 for freshman, 65 for transfer students
Students who want to major in social work are admitted to the pre-professional social work major and remain in the pre-professional major until they meet requirements to be admitted into the social work major. This policy is applicable to all students: new freshmen, transfer students, and students changing their major. Students must meet the following criteria before admittance to the social work major:
Have a 2.60 overall GPA in courses taken at USA
Have completed a minimum of 60 credit hours
Have completed EH 101 & 102 with grade of C or better
Have completed the BLY requirement with a grade of C or better
Have completed the math requirement
Have completed the statistics requirement
Have completed SW 200, SW 214, and SW 220 with a grade of C or better
Meet all requirements specified by the program for demonstrating behavior consistent with the NASW Code of Ethics
Social Work Major (Junior and Senior Year)
▼ Junior and Senior Years
| Junior Year: 1st semester | Junior Year: 2nd semester |
| --- | --- |
| SW201 HB& SE I - Fall only | SW 302 H B & SE II - Spring only |
| SY 381 Soc Research Meth I - Fall only | SY 382 Soc Res Meth II - Spring only |
| SW 401 Generalist Practice I - Fall only | SW 402 Generalist Practice II - Spring only |
| SY 220 - Marriage and Family | SW 301 - Social Policy - Spring only |
| | SW 310 - Community Context |
| Senior Year: 1st semester | Senior Year: 2nd semester |
| --- | --- |
| SW 300 + Social Work Elective | SW 412 Field Instr (12 cr) |
| SY 300 + Sociology Elective | SW 414 Senior Semin. (W) |
| Electives (if needed) to reach 120 hours | |
The Social Work Major admissions application will go live November 9. Deadline to apply is December 9.
Students who have completed the specified requirements must apply for admission to the social work major. The application will be reviewed by the Bachelor of Social Work program faculty and the student will be notified in writing regarding the faculty decision. Once admitted to the major, the social work program will administratively change the student's major from the pre-social work major to the social work major. The student will need to meet with an advisor to sign a form indicating his/her understanding and acceptance of the criteria for continuing as a social work major. Those criteria include:
Maintain a 2.50 GPA in social work courses
Maintain an overall 2.60 GPA at USA
Demonstrate acceptable professional conduct, personal integrity and emotional stability requisite for effective social work practice.
Demonstrate identification with the profession of social work
Demonstrate behavior consistent with Code of Ethics for the National Association of Social Workers
Students who have not been admitted to the major may not enroll in SW 201, SW 301, SW 302, SW 310, SW 401, SW 402, SW 412 or SW 414. Students completing Bachelor of Social Work requirements may complete at SY minor with one additional SY course or may choose another minor.